What is a content hub?
September 26, 2022

Nicole Bump of Bump Inbound is our guest author this week. (Nicole also co-created the Content Strategy Quickstart course with Ercule.)
No one goes to a website thinking, hmmmm, do I want a blog or an ebook?
So, why do we separate different types of content into different sections of the website?
Why are ebooks and other "Resources" kept separate from blog posts? Why are both groups kept separate from podcast pages? And from webinars and case studies?
🧐🧐🧐
If you're looking for information on real-time data analytics, for example, wouldn't you rather be able to view everything on that topic at once — rather than searching through multiple sections of the site?
A centralized marketing content hub could offer a much more effective B2B content experience.
🍱 What is a content hub?
A content hub is a single place visitors can go to find all kinds of curated brand content (e.g. blog posts, guides, webinars, infographics, videos, etc.).
A marketing content hub typically has functionality that allows you to easily search through all content, as well as filter by a set of brand-defined categories.
For example, a content library hub may offer filters by:
Topic (generally, evergreen pillar topics)
Industry
Content Type
Role/persona
The primary benefit of a content hub is delivering an experience that makes it easier for users to explore the specific topics they're interested in (rather than navigating your content silos).
Metadata.io offers a pretty great example.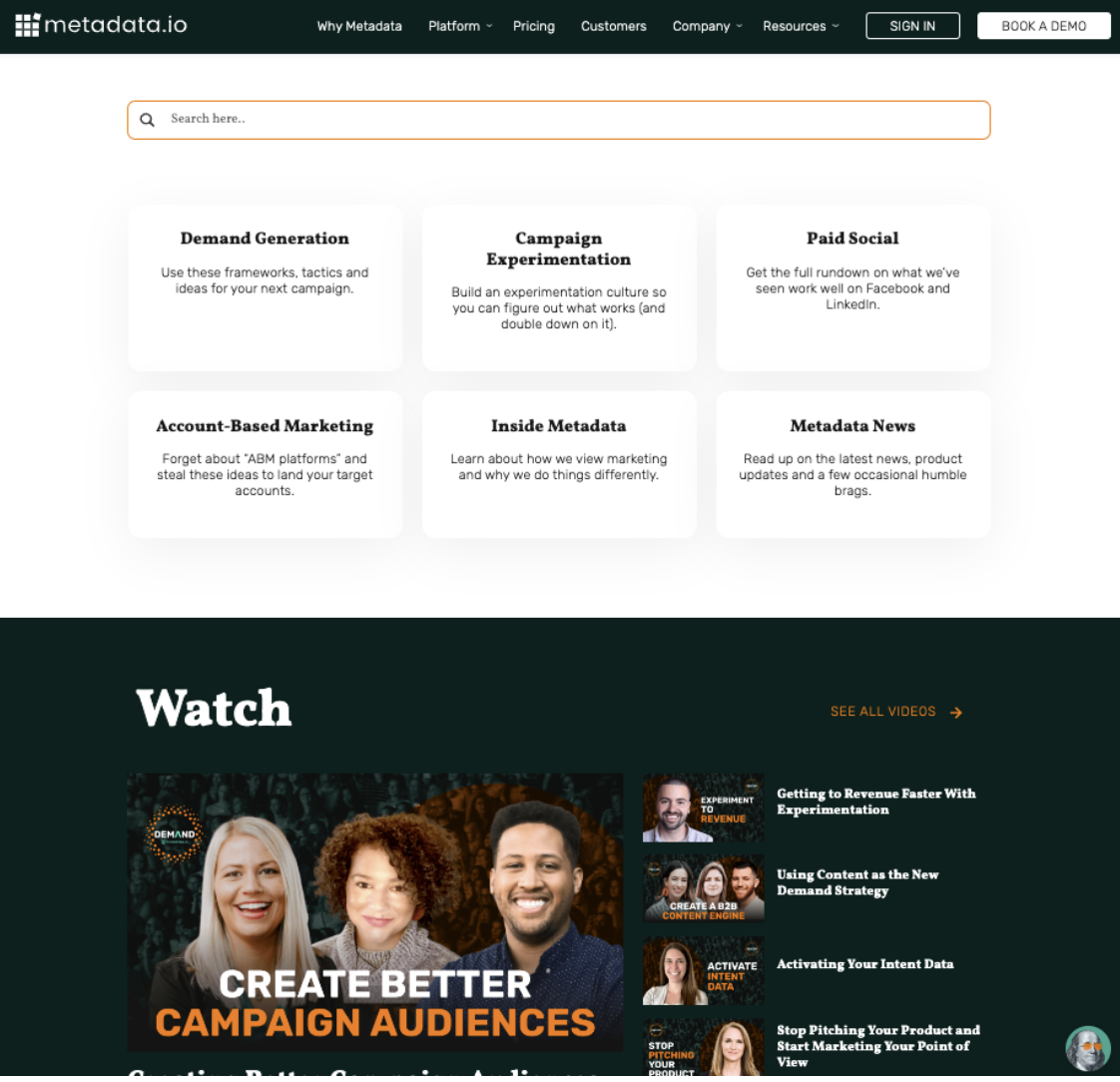 Metadata's hub tells visitors: this is "Where you come to get better at demand gen."
First up? A big search bar to help visitors find exactly what they're looking for.
Front and center is the ability to sort by topic of interest, such as demand generation, campaign experimentation, and paid social. Further down the page, visitors can also choose to browse some of the brand's most popular content pieces (hello, social proof!).
One thing I find interesting about Metadata's hub is that several of the sections invite visitors to "watch", "listen" or "read" some of their high-value content pieces. Technically, this is still breaking the content down into buckets by type — but they do so in a way that caters to how a visitor thinks of consuming the content.
🏄 What you can do
Before overhauling your current blog and resource center (or continuing status quo), it's worth asking: Do we really need a content hub?
To answer that question, start with input from some new customers:
Did they consume any of your content before buying?
How did they find it?
Did they browse any other content on the site?
How easy was it to find what they were looking for?
If visitors are navigating to and using these pages now, they'd likely get more value from organizing your content in a content hub.
Your website analytics may also offer some clues:
How many people visit your blog home page and resource center page now?
Do they click into a variety of posts?
Use the search functionality?
There's also a very real question of resources:
How much can you comfortably invest in building a content hub?
Because these aren't always the easiest instruments to implement. For enterprises with deep pockets there are some great (but pricey) SaaS options that generate hubs. Everyone else may be looking at some custom development work.
I've taken both approaches. The SaaS approach is easier, but you'll pay for it as long as you want to use it. And if you change your mind (or cut your budget), you'll be stuck migrating all of your content out of the platform and back into your website.
The custom development route can be a pain, but once it's finished, you own the product (albeit, probably without AI content recommendations).
How do you organize your content? Send me links/screenshots (nicole.bump@gmail.com) and I'll feature it in future blog and LI post.
🏆 If you found this useful, you might want to subscribe to our newsletter. When we have enough interesting stuff to say, we send another edition (typically a couple times a month). No spam, of course.