Speed is a feature
August 18, 2020

A few statistics on things we know about the influence of speed on concrete things like traffic, conversions, and revenue:
(Amazingly, having a speedy website is also still a significant differentiator. Website speed still hasn't improved, despite 7-fold increases in internet speed.)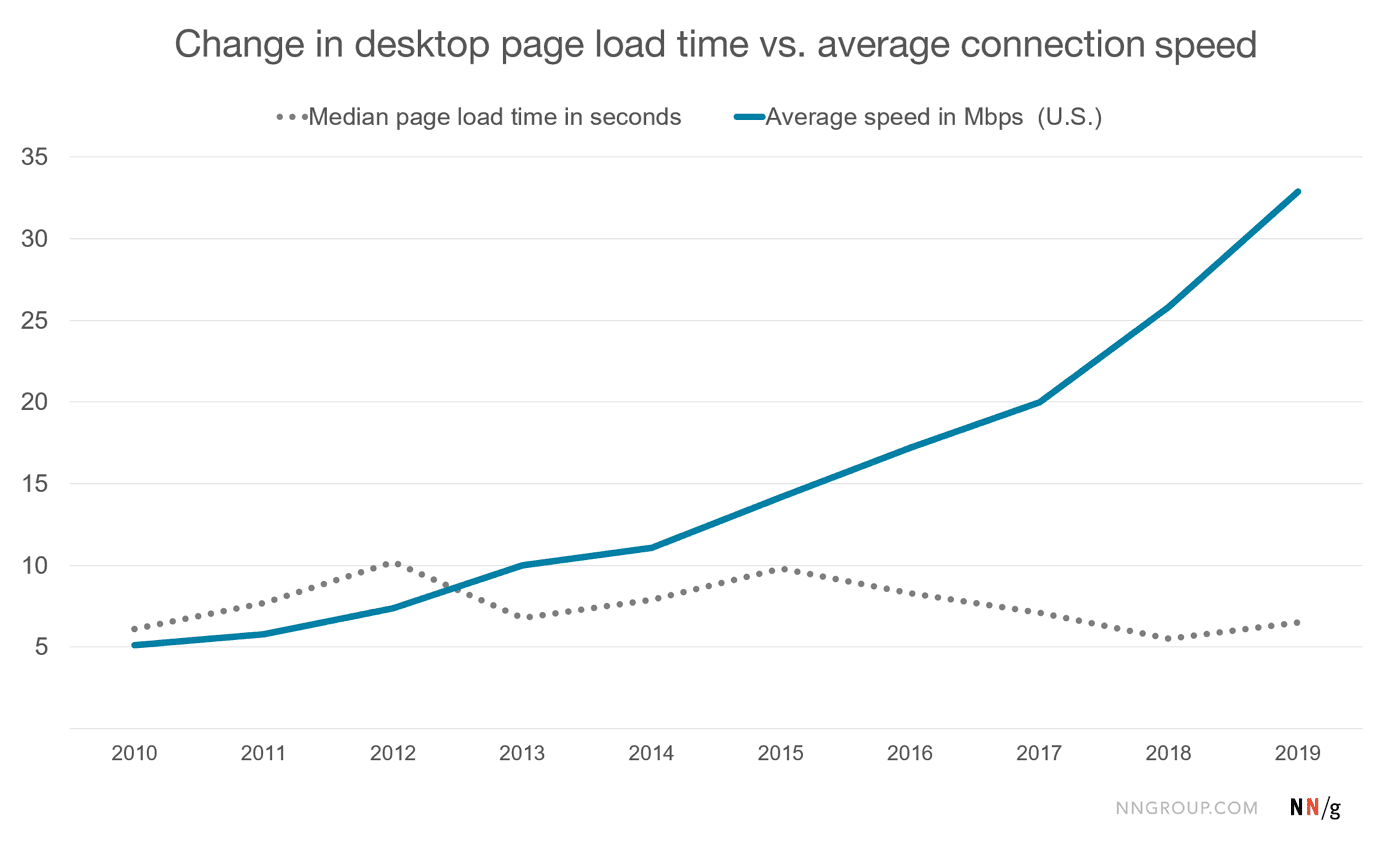 Source: Norman Nielsen Group
Most audits focus on the technical aspects of improving site speed, but we think there are actually 3 different things to look at. How long does it take a visitor:
To be able to start reading?
To be able to interact?
To find what they're looking for on your site?
All of these need to be optimized if you want to make your site as useful as possible. (Google has an excellent set of measurements called Core Web Vitals that break the first two bullets down into specific, numerical measurements.)
There are a lot of things you can do to improve your site speed, but we suggest being strategic in every case.
Speed auditing
If you suspect you have speed issues with your site (and even if you don't), the first step is to audit your site. Google's audit tool is useful, though Google's tools tend to be quite harsh in their assessments, as Google is incentivized to improve the quality of its search results as much as possible, sometimes at the expense of publishers. Ercule also publishes a content stack audit with the things we think are really important to fix (we categorize speed-related items under "Usability").
Technical audits invariably surface hundreds, or sometimes thousands, of issues with a site. Each one is not equally important, and we think that 20% of items can usually cover much of the improvement you'll see.
The most important items are around site speed – if you can easily improve this – and usability.
Usability auditing
A few measurements in these audits do cover usability, but in addition to the factors that a machine can assess, we also recommend doing user testing if at all possible to hear what's going through visitors' minds when they interact with your site. Here's an example user test plan that you can use with a service like UserTesting.com.
Lastly, make sure it's easy for your users to find the information they're looking for. Making your website easy and clear to use and consume results in significant improvements in perceived speed, and delivers benefits for rankings, traffic, and conversions.
Choosing the right CMS and configuring your site correctly
A major cause of slow sites is having a slow or misconfigured CMS.
While static site generators are usually the fastest, pretty much any CMS can be fast if it's properly configured. Some of this will show up in a technical audit, but make sure that caching is enabled, assets are served via a CDN, and other technical basics like minification are enabled. If you have lots of large images and other assets, see if you can reduce their size.
Loading fewer widgets
Lots of sites we see have tons of Javascript that runs to collect analytics, and encourage conversions and sharing. No matter how they're configured, these widgets often decrease speed as it's perceived by your user. Of particular concern are newsletter signup and other widgets that immediately take over the whole screen, which adds an extra step – dismissing your popup – to your user's journey.
Conclusion
Speed matters, and not just in terms of load time. Think about your users: what do they need right away from your site? They need to see it, to explore it, and to find what they're looking for. Optimizing for user-oriented metrics will win you more conversions. Technical audits are an essential part of the process, but UX design is crucial too.
🏆 If you found this useful, you might want to subscribe to our newsletter. When we have enough interesting stuff to say, we send another edition (typically a couple times a month). No spam, of course.