Google's motivations
August 13, 2020

Often, in SEO, we make the mistake of assuming that Google wants to drive users to our content. We wish this were true, but it isn't.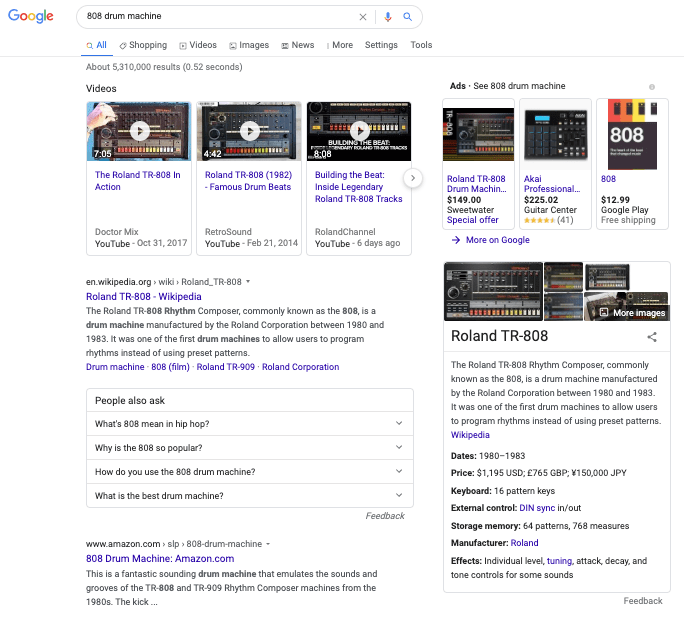 Search for any topic, and you'll consistently see fewer links to publisher sites than you did a few years ago. Instead, more and more of what you see is:
Content scraped directly from websites and presented by Google, including instant answers and knowledge panels

Links to other Google properties

Ads
SparkToro has some great stats on this. To summarize briefly, their data shows that no-click searches increased from 56% to 62% of all searches from 2016 to 2018.
And according to Bloomberg, "[In 2019], the Search business alone brought in almost $100 billion in sales. Much of that growth has come from adding more ads."
What do we think this means for SEO? There are a few predictions we can confidently make:
Organic search will remain important for a long time.
Zero-click results will become more important, too. This means it's important to have well-structured websites, together with schema markup, that Google can read.
Ads are going to become more competitive and take up more space on the front page. This means that clicks from paid ads are going to become more expensive.
It also means:
Content marketers need to think beyond SEO and to holistic link distribution strategies. That way, as organic does become more competitive, their content is already distributed among other channels.
Content marketers need to own their own audience, not Google. That means audience building is important. That means conversions from the traffic you do get, and high-quality branded content creation so that organic search becomes a way of increasing brand exposure. It also means you should focus on keywords Google is less likely to cannibalize.
Content marketers need to focus on improving their content marketing machinery, which is effective across all content.
Conclusion
Google is an extremely useful tool for business, but it has a vested interest in steering people toward Google properties and the sites of people who pay Google money (a.k.a. advertisers). Keep using Google for its perks, but don't rely on a search engine to grow your business for you.
Work on building your own audience independent of search results. Capture their attention with a steady stream of quality content. Optimize your website for the strongest possible showing in organic search results, which will keep you toward the top of a SERP (without ever paying for ads).
🏆 If you found this useful, you might want to subscribe to our newsletter. When we have enough interesting stuff to say, we send another edition (typically a couple times a month). No spam, of course.