How to identify causes of declining organic traffic
June 15, 2022

Organic page traffic can ebb and flow. But when is it a cause for concern?
Here's our criteria:

Traffic over the past 3 months has declined more than 15% from the previous 3 months.
Pages in this situation need immediate attention.
So let's talk about how to identify specific causes of decline, and what you can do to get the traffic moving up again.
🔍 How to identify the causes of declining traffic
Organic traffic is determined by how well your page is performing for particular keywords in organic search. (Ranking #3 for a keyword will net you more clicks than ranking #35.)
And it's further influenced by how frequently people search for your keywords. (A keyword that gets 5,000 searches per month will drive more clicks than a keyword that gets 10 searches per month.)
Either (or both) of those factors can be the cause of your declining traffic:
And each of them can point you toward more specific causes.
Factor #1: Number of searches
If the number of searches is down, then users are searching for the topic less frequently.
This leads to two potential theories for what's affecting traffic:
The language people use for a given topic has changed.
The topic itself is less popular than it used to be.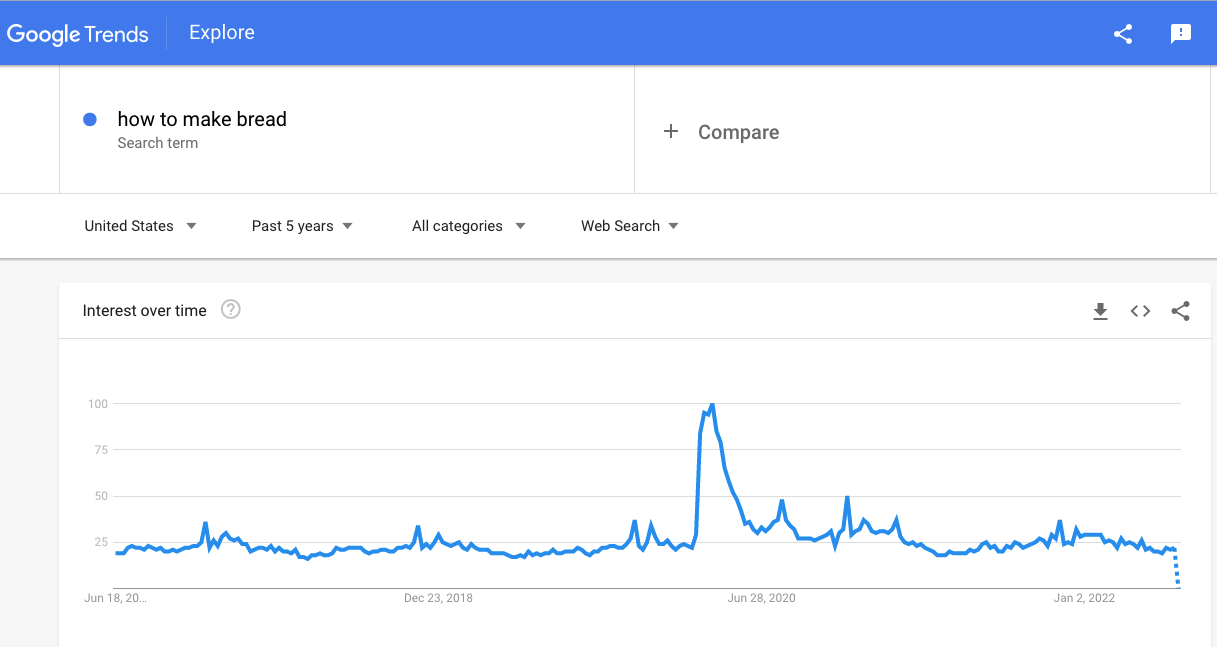 Factor #2: Number of clicks
This factor is a bit more complex. It follows this equation:
Number of clicks = Number of impressions ⨉ Click-through rate
Each of those factors leads you to more specific theories:
If the number of impressions is down (but overall search volume is steady), then you're probably ranking lower on the SERP page.
If click-through rate is down, then visitors are less interested in the title and meta description that appear on the search results page.

(Note: If these metrics have plummeted overnight from sky-high to zero, then it might also be due to a Google algorithm update that you missed.)
🏄 What you can do
You can't fix every page at once – and some won't be worth the effort. Prioritize pages that are (or have been) getting significant traffic.
Pull the data that we mentioned above, and flag which metrics are declining:
Enter the page's topic in Trends to identify any change in search volume
Pull data from GSC: Impressions, Click-through rates
If the Trends data is showing a decrease in topic searches, then you'll want to talk to your product marketing team.
Are people using different phrases to talk about the same problems?
Are the market categories changing?
Is your company focused on a shrinking problem?
These might not be within your power to solve, but it's good to understand so you know how much more to invest in what you've already been doing.
If click-through rate is down, then it's time to revisit the basic elements which effect your SERP presentation: Page title and meta description
Note: Google is transitioning away from using traditional meta descriptions, but it doesn't hurt to update them anyway. Also, updating these fields is a pretty easy task.
If impressions are down (but search volume is steady), then you'll want to focus on SERP performance. In other words: it's time to update your content to make it more competitive.
Review top-ranking pages, and note what they're doing that you're not:
Content: Does it respond to search intent better than your page? Is their analysis more substantial? Is their point of view more modern?
User experience: Is their page easier to navigate? Is their H-tag structure more clear?
Let those observations inform your revision of the page. In addition, [make sure the smaller details are optimized for SEO too.]
And once you've published the revision, remember: updates take time to show results in organic search.
While you wait, you can help out the page by distributing links across your usual channels, as if it were a new post.
🏆 If you found this useful, you might want to subscribe to our newsletter. When we have enough interesting stuff to say, we send another edition (typically a couple times a month). No spam, of course.