Understanding your keyword strategy
While you were busy entering numbers, your spreadsheet was automatically weighting and ranking all of your data points for all of your keywords — according to the tried-and-true model we've honed over the years. You'll find these recommendations in the "Strategy Output" tab.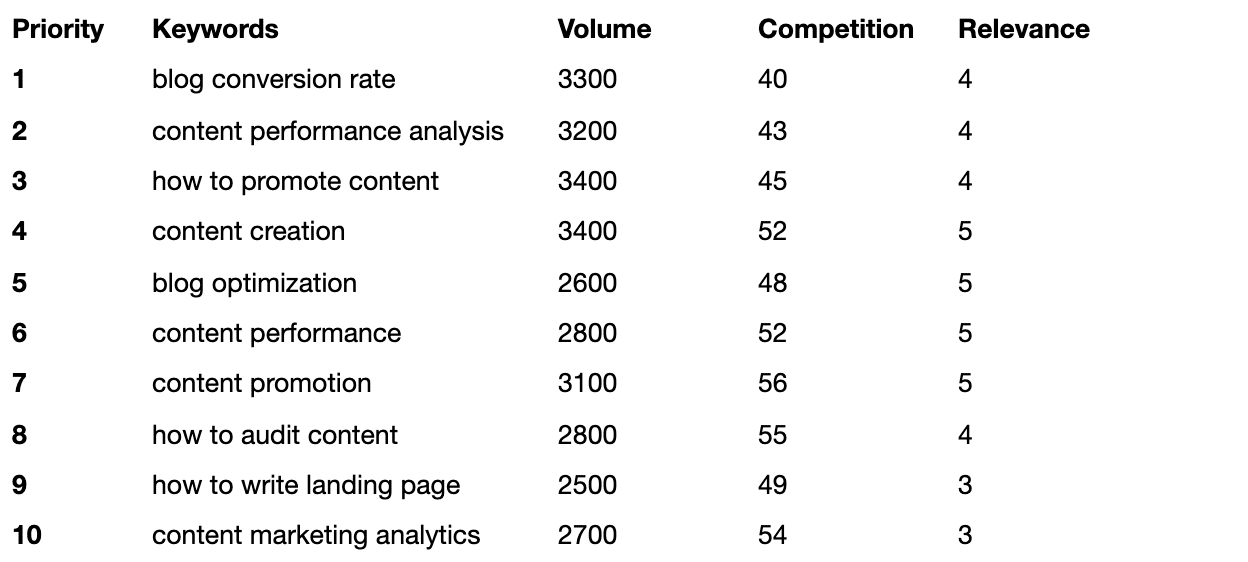 Congratulations, you now have a data-driven keyword strategy! So…what does it mean?
Based on the numbers we put in, your first priority should be to create content around the phase "blog conversion rate". We suggest starting with 3 - 5 articles that somehow relate to this keyword.
Your next priority is to tackle the keywords below this one, and in general, you'll want to commit to writing 3 - 5 articles for each one.
This is a list of suggestions, not an absolute list that you have to follow. If you see something that doesn't look right or that you're not prepared to write about, feel free to skip it.
It can also be extremely useful to add an additional column, "Rank" to the output spreadsheet. If you're already ranking for a relevant term, it can be more efficient to pursue increasing your rank for that particular keyword, rather than trying to rank for something that you have no traction on.
You're done! What's next?
As you can see, building a keyword strategy doesn't have to be a long, drawn-out process. You can build a reliable, defensible strategy in just a few hours if you limit your focus, incorporate relevance alongside volume and competition, and keep your strategy updated.
With your keyword strategy in hand, the next step is to convert your strategy into action – creating content.
As you decide where to start, some general rules:
If you already have a page on your site that's ranking for a term – especially just outside of the first page of results, let's say ranks 11 - 30 – and you haven't revisited it in the last several months, your first priority should be tweaking or updating the relevant page.
Otherwise, we'd recommend making new content. Blog posts are generally fine. If the content is very high-volume / top of funnel we often recommend making explainer pages.
Overall, we don't recommend making more than 1 - 2 pieces of content for any specific keyword, because generally, you will only have 1 page rank for any given keyword. Especially for companies with less ability to produce content, it's better to create content horizontally.
You also want to make sure you revisit your keyword strategy regularly. Let's be honest — most companies (and agencies, for that matter) build a keyword strategy once, then forget about it and don't touch it again for years. This is bad, especially at fast-growing companies that need to be responsive to changing conditions around the strategy they've built. You need to revisit your keyword strategy consistently, around every 6 to 12 months, and make sure everyone's still on board.
Building a keyword strategy doesn't do anything unless it gets followed, and even if it is followed, it takes a consistent effort over months to see results. So, now that you have yours — go create that content!