Adding parameters and SEO specifications
The Parameters and SEO specifications sections will give a writer the basic formal expectations of the piece.
Parameters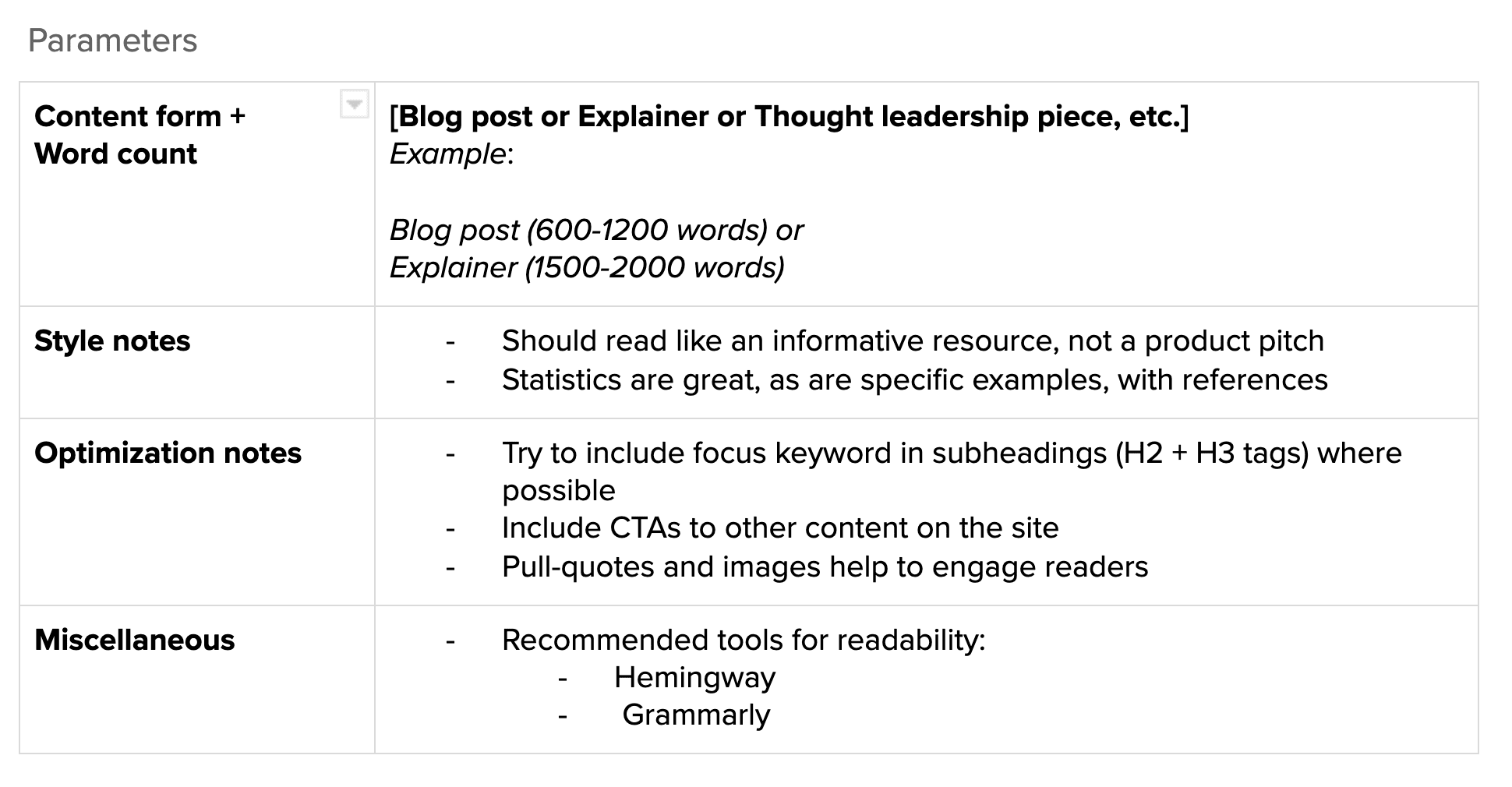 Everything in the Parameters section can (and should) be customized to reflect your company's unique style guides, distribution strategy, and workplace protocol. Basically, anything that you want to standardize for your own writing staff.
Content form and word count
Different forms require different word counts.
Blogs are usually 600 - 1,200 words.
Explainers are often 1500 - 2,000 words.
Thought leadership pieces are often 2,000 words or more.
Posts with fewer than 500 words tend to rank poorly, so we consider 500 words the minimum for any marketing content.
Style notes
Your brand's style is your brand's style, so what you prescribe here is up to you. Content marketing is unique in its softer-sell approach. We use the Style notes section to remind our writers.
Similarly, our style is built on specificity and clarity, so we included that note in the template.
Optimization notes
These are formal notes about best practices for content performance – things that you want writers to implement in their draft. By making sure that writers do these things, you won't have to do them yourself later on..
For example, we like to remind writers about keyword use in headings at the outset, so our managers don't waste their time wordsmithing subheads.
Miscellaneous
What else would you like to put at the top of the writer's mind before they get started? This can vary by project and collaborator.
As you'll see in the template, our Miscellaneous section will sometimes include suggestions for writing tools.
SEO specifications
This section focuses on details for content management and publishing:
Keyword
URL
Page Title
Meta Description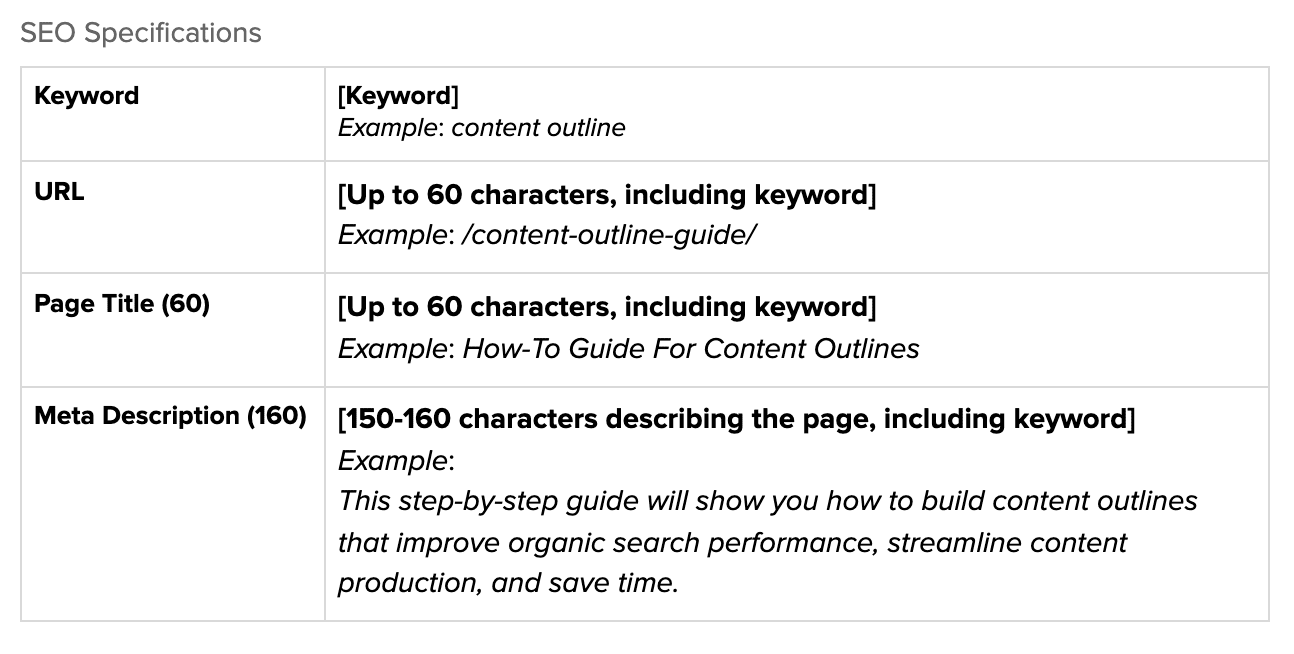 Basically, those are the first places that a search engine looks when trying to rank your page. (If you want to get really technical, check out our content audit documents.)
Keyword
As far as organic search performance goes, the focus keyword is the single most important part of generating content. Basically, it's whatever phrase you're hoping this piece will rank for.
Choose your keyword before you even begin the outline. While search engines will certainly rank you for more than one keyword, you'll get the best results by focusing on just one.
If you don't have a keyword strategy yet, you can use any number of tools. Our Keyword Strategy Guide has a section that surveys some of the most popular ones.
URL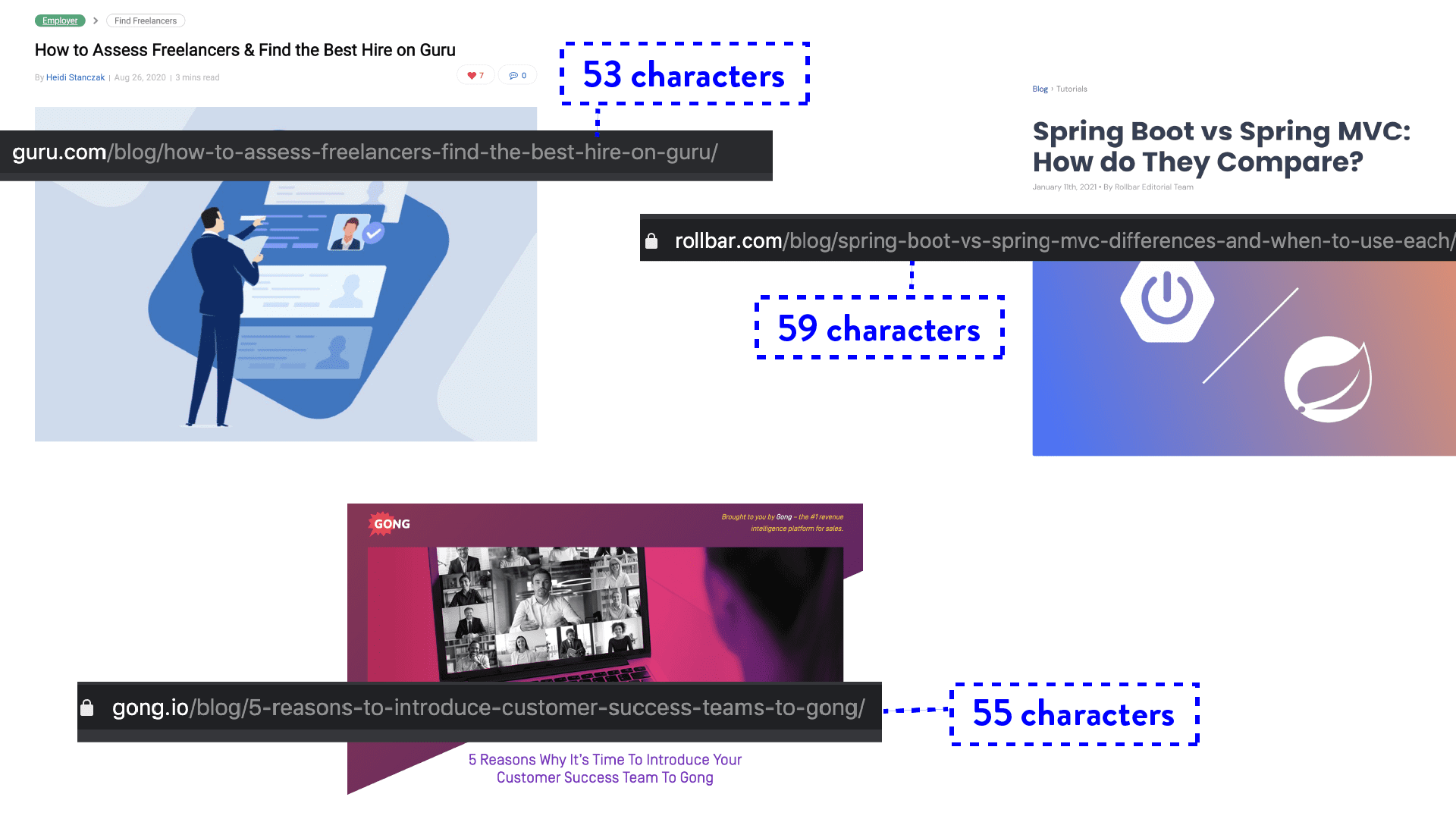 The URL is where your page will live. It's also another chance to make the value of a page clear. Of course, the web domain will be the same, but in your outline you'll choose the last part of the URL – also known as the 'slug'.
When a URL slug is too long, it can be hard for readers to process at a glance. Try to keep the URL slugs to 50 - 60 characters overall and always include your focus keyword.
If the slug is a bit too long, remove stop-words like 'the' and 'a'. Publication dates should be avoided in the URL, unless the date of a post is important information for your reader.
Page Title
The title is what search engines will display at the top of the browser window – in HTML speak, this is the Title tag. It's usually the same as the title of the blog post.
Your title should include your focus keyword if at all possible, but otherwise, keep it straightforward. A few other small things:
Titles need to fit within the space search engines allocate for them.
We usually find that this limits you to 55 characters.

Keep the title simple – no added brand words or categories.
For example, a lot of brands have titles that look like this: Content Marketing Explained « Explainers « Ercule. In addition to making your title too long, these can be confusing to visitors. We recommend including only the title. Even your brand name is unnecessary most of the time.
Meta Description
Contrary to popular belief, this is one field that Google does not actually factor into your search ranking. Still, it's really important to optimize for each page. The meta description is what search engines will (often) display in a search engine result for your piece.
So you can think of this as a little ad on the search engine results page. And you should write it the same way, something compelling that tells the reader what your content is about, and that invites them to click. Here's an example:

However, Google will often generate its own meta descriptions when recommending your page, as it did with this page:

Wait, what?! Yes, it's true. Google may override your meta description, especially when your visitor searches for something that's in the text of your page, but not in your description.
Well, why bother writing them, then? A couple reasons:
Google only overrides meta descriptions sometimes. And Google has not been very clear about when or why they do it.

The meta description, like the title, will often show up in all kinds of other places – snippets on your website, snippets on other websites, social, and so on.

It pays to write a good one! At any moment, your meta description can be the deciding factor in someone clicking or not clicking on your site.
Tips for writing meta descriptions
Since meta descriptions are not a ranking factor, you have complete creative freedom when it comes to writing them.
We usually start writing a meta description by figuring out the central argument for our blog posts. In order to figure this out, try summing up the entire blog in one sentence. Ideally, this one sentence includes:
The subject matter (i.e. keyword). Even though this won't influence Google, matching your visitor's search phrase in your meta description makes them more likely to click.
Why people should care about it.
What your post offers readers.
Aim for about 155 characters total. That's about how much space there is on a Google listing.