Blog
June 28, 2022
📓 Article
At Ercule, we often work with teams that are still in the early stage of a content program.
Some are starting a blog from scratch. Others are taking over a blog that never quite performed. Others are changing the focus of their company's content, or even the positioning of the company itself.
As a result, they're all kind of resetting. And all of these teams need some metrics to gauge how well their early efforts are doing – but not all metrics will be useful.
Search impressions can help a lot. Let's talk about them.
🛎️ Decoding "Impressions"
Google Search Console tracks a metric for your site called "Impressions."

It means: How many times did a page show up in a Google search?
As an overall performance metric, it's broad. And when you're starting a program from scratch, even broad data helps.
But you can also drill down further into the Impressions data by filtering for search query results. When you filter it with targeted keywords, you can see whether you're showing up in the Google searches that you want.
In the sample below, we filtered for queries that include the word 'data'.

If you're getting started talking about some new topics, this is a great way to see if your focus on those particular topics is getting traction.
🏄 What you can do
To get your footing in the analytics realm, start simple.
Pick one blog post, which you published recently – about a month ago. That should be long enough for the page to start ranking in Google, but recently enough to just be getting started.
Step 1: Find the data
Go look it up in Google Search Console. See if it's getting any impressions.
(If the numbers are promising, then do yourself a favor and mention it to the rest of your team 🙂)
Then use the query filter to find out…
What are the queries it's getting impressions for?

Are these queries that align with your target audience and keywords?
Even if it's not getting any impressions, make a note of that as well.
Step 2: Wait a couple months
Let the page do its thing for a month or two.
Step 3: Revisit the data
Revisit those metrics. If the metrics are on the way up, and the queries are aligned with your target audience, you can let them be. Check back in another month or so.
If the queries are not aligned with your target audience, then it's time to reassess the post. Ask these questions:
Is the title clear and specific?

Do the subheads speak to the topic?

Is the post using H-tags in a linear way?
By point of comparison, look at pages that are ranking for your target keywords. See what they're doing right.
If the overall Impressions numbers are looking okay but not great, then there are a few things you can do to improve them:
Promote your content on social

Send it out in an email

Get somebody else to talk about it
The goal is to get more people linking to the page, which will show Google that your content is worth ranking.
Step 4: Repeat
Give it another couple months. If your metrics still aren't moving, it might be time to rethink the page.
Cut out the strongest material from the post and add it to relevant pages that are already performing.
June 15, 2022
📓 Article
Organic page traffic can ebb and flow. But when is it a cause for concern?
Here's our criteria:

Traffic over the past 3 months has declined more than 15% from the previous 3 months.
Pages in this situation need immediate attention.
So let's talk about how to identify specific causes of decline, and what you can do to get the traffic moving up again.
🔍 How to identify the causes of declining traffic
Organic traffic is determined by how well your page is performing for particular keywords in organic search. (Ranking #3 for a keyword will net you more clicks than ranking #35.)
And it's further influenced by how frequently people search for your keywords. (A keyword that gets 5,000 searches per month will drive more clicks than a keyword that gets 10 searches per month.)
Either (or both) of those factors can be the cause of your declining traffic:
And each of them can point you toward more specific causes.
Factor #1: Number of searches
If the number of searches is down, then users are searching for the topic less frequently.
This leads to two potential theories for what's affecting traffic:
The language people use for a given topic has changed.
The topic itself is less popular than it used to be.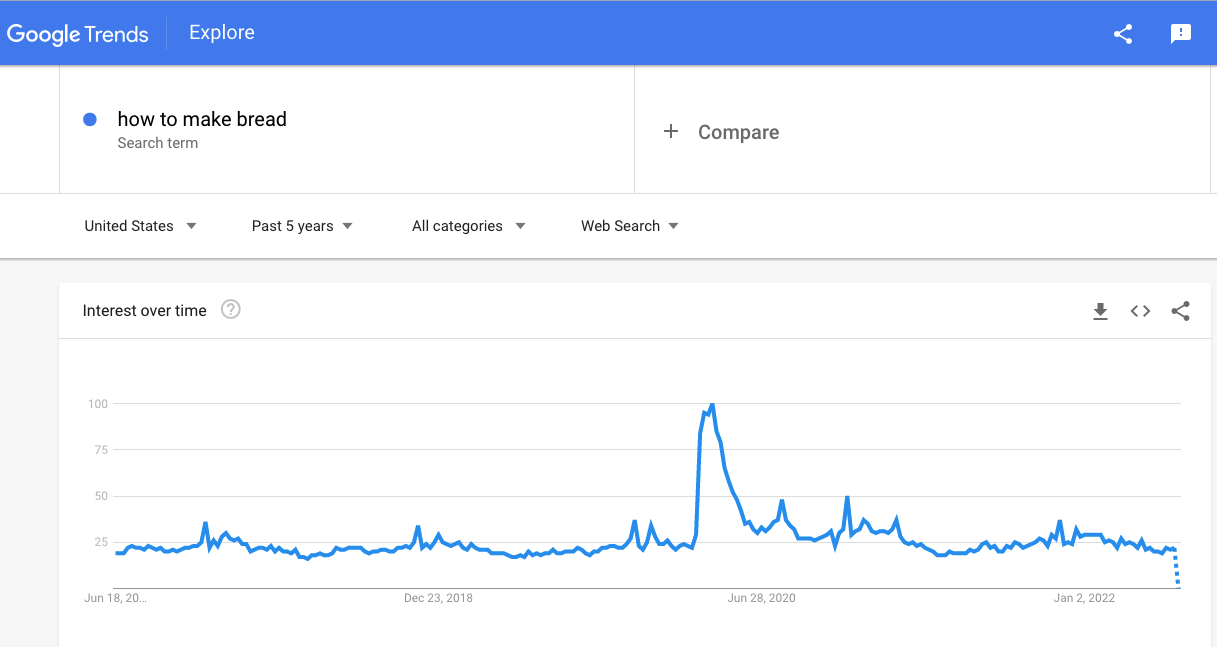 Factor #2: Number of clicks
This factor is a bit more complex. It follows this equation:
Number of clicks = Number of impressions ⨉ Click-through rate
Each of those factors leads you to more specific theories:
If the number of impressions is down (but overall search volume is steady), then you're probably ranking lower on the SERP page.
If click-through rate is down, then visitors are less interested in the title and meta description that appear on the search results page.

(Note: If these metrics have plummeted overnight from sky-high to zero, then it might also be due to a Google algorithm update that you missed.)
🏄 What you can do
You can't fix every page at once – and some won't be worth the effort. Prioritize pages that are (or have been) getting significant traffic.
Pull the data that we mentioned above, and flag which metrics are declining:
Enter the page's topic in Trends to identify any change in search volume
Pull data from GSC: Impressions, Click-through rates
If the Trends data is showing a decrease in topic searches, then you'll want to talk to your product marketing team.
Are people using different phrases to talk about the same problems?
Are the market categories changing?
Is your company focused on a shrinking problem?
These might not be within your power to solve, but it's good to understand so you know how much more to invest in what you've already been doing.
If click-through rate is down, then it's time to revisit the basic elements which effect your SERP presentation: Page title and meta description
Note: Google is transitioning away from using traditional meta descriptions, but it doesn't hurt to update them anyway. Also, updating these fields is a pretty easy task.
If impressions are down (but search volume is steady), then you'll want to focus on SERP performance. In other words: it's time to update your content to make it more competitive.
Review top-ranking pages, and note what they're doing that you're not:
Content: Does it respond to search intent better than your page? Is their analysis more substantial? Is their point of view more modern?
User experience: Is their page easier to navigate? Is their H-tag structure more clear?
Let those observations inform your revision of the page. In addition, [make sure the smaller details are optimized for SEO too.]
And once you've published the revision, remember: updates take time to show results in organic search.
While you wait, you can help out the page by distributing links across your usual channels, as if it were a new post.
May 23, 2022
📓 Article
We got some help on this post from Josh Spilker, Director of Content at Range. (We're big fans of Josh's playbook for scaling traffic in one quarter.)
Content marketers pride themselves on being useful, rather than pushy. Educational instead of sales-y.
That doesn't mean we're supposed to sound like Wikipedia, though. We're all still marketing a product. And if you lean into this fact, your content becomes more useful to readers and more effective for your brand.
At the end of any blog post, we should be able to complete the phrase: "Here's how we can help…"
Every blog post can (and should) complete that phrase at least once – and, ideally, a few times:
Through the content itself, with a product-led approach
In the calls to action, each tailored to the reader's journey
This works for every stage of the funnel. Yes, even the very top.
Let's look at why the "helpful" test works, and how to wield it with your existing content.
🦮 The helpful test
The helpful test is not an anti-sales approach. We lean into it because it's a very effective sales approach.
If you're crafting a top-funnel post about "How small businesses use accounting software," the topic itself is pretty broad – until you ask: How can our product help?
By answering that question, you'll identify common customer pain points, which lead to a targeted discussion of your product's features.
Including those product details in a post can be as simple as adding a subhead toward the end entitled, simply, 'How our product helps.'
The helpful test comes in handy with CTAs as well. If your top-funnel reader has only started to read up on accounting software, then you can probably help by linking to similar educational posts on your blog.
You could push a product demo link in the CTA, but it probably won't be very helpful to that top-funnel buyer. You risk losing their attention altogether.
🏄🏼 What you can do
You can use the helpful test to improve conversion rates on your existing content.
(We recommend starting off with your highest-traffic posts.)
For each piece of content, you'll focus on:
Product-led content integration
Call-to-action optimization
Product-led content
Before you can add product-led content to an existing post, you need to decide what sort of content would be relevant to the reader.
Different points in the journey require you to answer different questions:
Top-funnel: How does my product connect with this topic?
Mid-funnel: How does my product help with this topic?
Bottom-funnel: How does my product compare with others?
Once you've answered that question, you'll know what sort of product-led material to include.
After you've added it, you can tailor the existing material. For example: with a mid-funnel post, this might mean adding a bit about pain points that your product helps relieve.
Calls to action
When it comes to revising CTAs, the helpful test requires a few considerations:
Where this piece fits in the buyer's journey
What subjects are being discussed
Which existing assets connect to those subjects
If the buyer is still in the top-funnel awareness stage… you might help by linking to a related, top-funnel blog post.
If they're farther down, evaluating different software capabilities… you might help them by suggesting a white paper. Or direct them to a chatbot that can answer questions.
If they're definitely going to choose a software… you can help with some docs pages from your product, and maybe a comparison page, or at long last, the product demo.
Later on down the line, you might talk with your web dev about different design elements that can help improve conversion rates. (We're big fans of persistent/sticky CTAs, for example.)
But the helpful test comes before all.
May 18, 2022
📓 Article
Are you creating product-led content yet?
That is: are you integrating your brand's product into all of the content you create?
Product can be 'woven' into content a million different ways. It can be central to the story told in a blog post, or an understated subhead at the bottom of a post.
Let's look at how to start updating your existing content library with a product-led approach.
(If you're looking for the basics of product-led content principles, folks like Fio Dossetto have written great primers, plus check out Amanda Natividad's podcast episode on this topic. Links at the bottom.)
🪡 How product is integrated into existing content
You don't need anything to get started with product-led content.
But you can incorporate assets that are already lying around: templates, demo videos, screenshots of your interface, data that you have about how something is done (or should be done) that can help illustrate the correct ways to do things.
In a 'How to' post, show how to do it – in your product. Or add a template that can be used within your product (Airtable does a great job of this.)
If it's a 'What is…' post, use your product to show how your company thinks about the topic. If your product is thoughtfully-designed, and can quickly help a beginner get up to speed, reflect that design in your content.
For anything you write, think about how the product itself might support the ideas behind the article.
But what about posts where it's not clear what the connection to your product is?
You might have an app that is hard to relate to this blog post. But maybe you also have a whitepaper or newsletter that can help readers, and that's easy to include?
"Thinking about replacing Slack? Our guide shows you all the things to consider."
"If you're just learning double-entry bookkeeping, our newsletter has helpful tips every week."
"Our app automates all of these steps so you can move on to more important things. It's free to try."
🏄🏼 What you can do
Rather than adding product-led material to every single blog in your library, figure out which ones show the most potential. This will be determined by traffic and engagement metrics.
✅ Revisit your pages with the high engagement stats (stars and wallflowers).
Since these pages are already performing well, you'll want to make small edits. They'll improve conversion rates without gambling with the page's overall performance.
✅ Revisit posts that have low-engagement but high traffic (sloths).
Consider a more thorough revision, which allows you to integrate a product-led approach. In other words: figure out a new story for this topic.
Since these pages are not yet really engaging readers, this is an opportunity to improve them all-around.
If you're struggling to build new stories in this way, it might be time to pay a visit to your product team. They can get you more comfortable with the ins and outs, use cases, and strengths of a product, which will really help you tell better stories.
Moving forward, make it a policy of devoting at least one subhead in every post to a (relevant, useful) discussion of your product.
And, as always, make sure your internal links, calls to action, and distribution plans are optimized for conversion too!
📚 Further reading
May 15, 2022
📓 Article
Content marketing continues to evolve and expand at a blistering pace. It seems like the duties of a content marketer keep expanding with it.
We wanted to better understand how content marketers spend their work hours. To find out what feels important to them, what feels difficult, and what feels irrelevant.
So, in June 2022, we created a survey to find out.
We invited anyone who considered themselves a content marketer. Participants included writers, content marketing managers, content directors, and a few other roles.
We received 75 responses. About half (35) of the respondents were in-house marketers, a third (22) were freelancers, and the rest were employed by an agency.
The survey
We asked participants 3 questions:
Which are the most important jobs you do in your professional role?
Which are the least important jobs you do in your professional role?
Which are the most annoying or difficult jobs you do in your professional role?
For each question, we encouraged respondents to choose 4 answers from a list. (Let's call these "votes".) It offered the following choices:
Build and execute an editorial calendar
Build outlines for new content
Conduct keyword research
Edit or proofread new content
Field ad-hoc questions about content performance
Generate leads
Generate traffic
Improve blog or article conversion rates
Monitor and report on content analytics
Optimize existing content
Publish content
Set goals for content performance
Write new content
Other
Summary of content marketing jobs to be done
Most content marketers are focused on being content writers rather than content strategists. (In-house, freelance, and agency marketers were generally in agreement on this opinion.)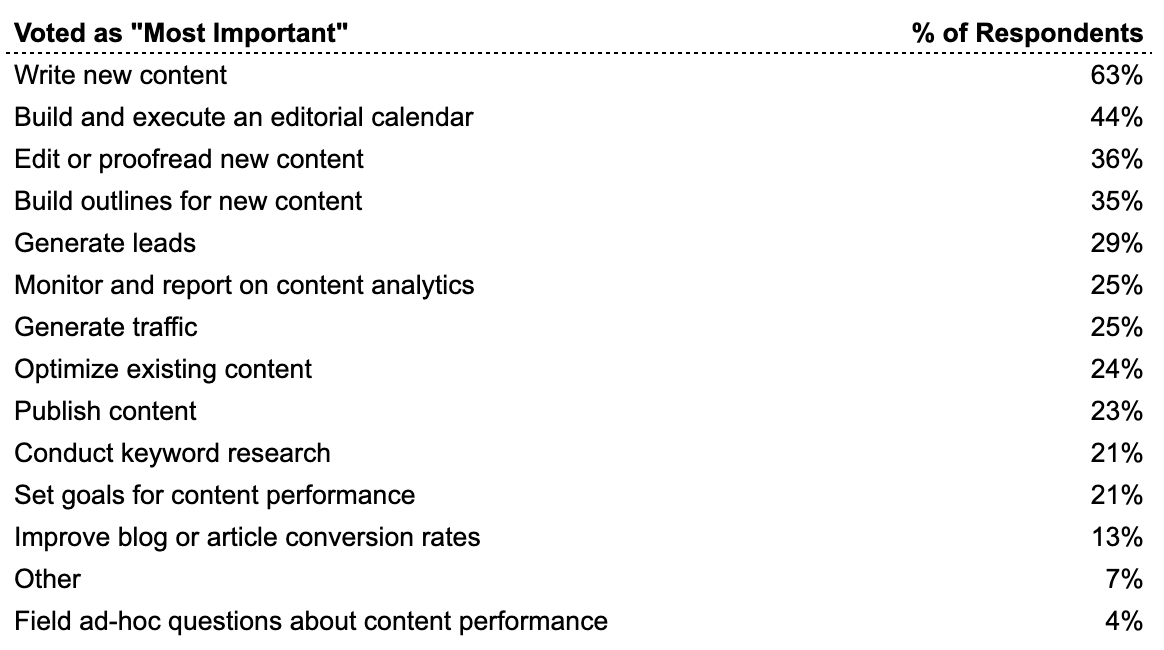 Furthermore, the strategic and analytic tasks were considered not only unimportant, but also annoying. These results surprised us – partly because we know those tasks to be high-impact levers.
The least important content marketing jobs
Unsurprisingly, the least important jobs to be done are generally the inverse of the most important jobs to be done. But the list makes it more clear which particular jobs are explicitly considered less important.
Overall, content analytics seemed to be considered relatively unimportant. This was a surprising finding, since how content performs would seem to be a critical part of understanding how a strategy is working (or isn't working).
By far the most consistent response for a less important marketing job was "fielding ad-hoc questions about content performance."
Anecdotally, we know this to be a very common task for marketers. And it's one that can become a major distraction for marketers – especially when they're fielding these questions from a CEO. And it doesn't always lead to improvements in underlying strategy or the performance of a particular piece.
The most annoying content marketing jobs
The tasks deemed most annoying or difficult were primarily strategic tasks.
Specifically, the tasks deemed most annoying or difficult were: content analytics, performance questions, setting goals, keyword research.
The most annoying or difficult tasks show a lot of overlap with the tasks that are viewed as least important (but this overlap isn't total).
When we overlap this data with the data from other questions in the survey, we start to get a fuller sense for how our respondents feel about certain tasks. For example…
"Setting goals for content performance" is a task considered both annoying and important
"Monitoring and reporting on content analytics" is considered both annoying and not important
And the task that's considered most annoying and unimportant is "fielding ad-hoc questions about content performance".
Next steps
As noted, we were surprised to find the strategic and analytic tasks undervalued by respondents to the survey. These tasks have high leverage within an existing content library, and content marketers could distinguish themselves by participating more in these tasks.
Based on the findings of this survey, we're wondering:
Are strategic and analytic tasks simply the purview of senior staff?
How can we convey that value of analytics and strategy to content marketers?
What factors discourage marketers from owning analytics and strategy?
What can we do to make these tasks more accessible to content marketers?
Is 'content marketer' simply synonymous with 'content writer'? Or is there a more expansive way to define the position?