Blog
September 26, 2022
📓 Article
Dull, copycat content at the top of a search results page… That's what Google is targeting with its recent Helpful Content Update.
As they put it: content created primarily for search engine traffic is unsatisfying. So they're tweaking the algorithm to reward content that is useful, insightful, satisfying.
We think this is great news. Yet we've noticed some nervous social media chatter between content marketers about the update.
If you're already creating thoughtful, targeted, effective content that's fun to read, you should be excited about the update! And if you're a paint-by-numbers SEO hacker, it's not too late to change your ways.
So let's take a look at it, to make sure you can be excited… or get on the path to excitement.
🤖 Google's Helpful Content Update explained
Google releases updates throughout the year. Some are targeted at discrete components (eg. product reviews) while others are broader (eg. "core" updates).
The Helpful Content Update is sort of in between. It's targeted at content quality, but 'quality' can be a hard thing to pin down.
So Google's main prescription for this update is: think of quality content as "people-first content." Basically: pages written for humans, not search engine bots.
According to Google, people-first content…
Is useful to your audience
Demonstrates first-hand expertise
Provides a satisfying reading experience
The kind of content it seems to be describing is rooted in very basic marketing fundamentals: knowing an audience, solving their problems, speaking their language.
🏄 What you can do
Take a read through Google's guidelines for high-quality sites.
Then ask yourself:
Are you creating content that fits this criteria?
How can you improve your existing content by these standards?
The list of questions on the guidelines doc is pretty long. Even the most competitive content teams could probably find at least one area to improve. Here are a few standouts:
Does the article provide original content, research, or original analysis? Basic takeaway: each piece should have something unique, even if it's just point-of-view.
For top-funnel content, this can mean simply including a section that describes your brand's perspective on a given pain point or technology.
If you do have some original research or white papers in the library, consider finding ways to weave that data into existing posts throughout the sales funnel to enhance their insights.
Is this article written by an expert… or is it more shallow in nature? Basic takeaway: involve a subject matter expert in the creation of every post.
That doesn't mean engineers need to write every post. But interviewing subject matter experts (SMEs) in the process is essential – especially if the writer isn't an expert.
A quick 15-minute chat can inform the angle of a new post. And a few choice quotes can be inserted to existing posts.
Is this the sort of page you'd want to bookmark, share with a friend, or recommend? Deep in your heart, you know the answer to this one. Stay honest.
September 26, 2022
📓 Article
Nicole Bump of Bump Inbound is our guest author this week. (Nicole also co-created the Content Strategy Quickstart course with Ercule.)
No one goes to a website thinking, hmmmm, do I want a blog or an ebook?
So, why do we separate different types of content into different sections of the website?
Why are ebooks and other "Resources" kept separate from blog posts? Why are both groups kept separate from podcast pages? And from webinars and case studies?
🧐🧐🧐
If you're looking for information on real-time data analytics, for example, wouldn't you rather be able to view everything on that topic at once — rather than searching through multiple sections of the site?
A centralized marketing content hub could offer a much more effective B2B content experience.
🍱 What is a content hub?
A content hub is a single place visitors can go to find all kinds of curated brand content (e.g. blog posts, guides, webinars, infographics, videos, etc.).
A marketing content hub typically has functionality that allows you to easily search through all content, as well as filter by a set of brand-defined categories.
For example, a content library hub may offer filters by:
Topic (generally, evergreen pillar topics)
Industry
Content Type
Role/persona
The primary benefit of a content hub is delivering an experience that makes it easier for users to explore the specific topics they're interested in (rather than navigating your content silos).
Metadata.io offers a pretty great example.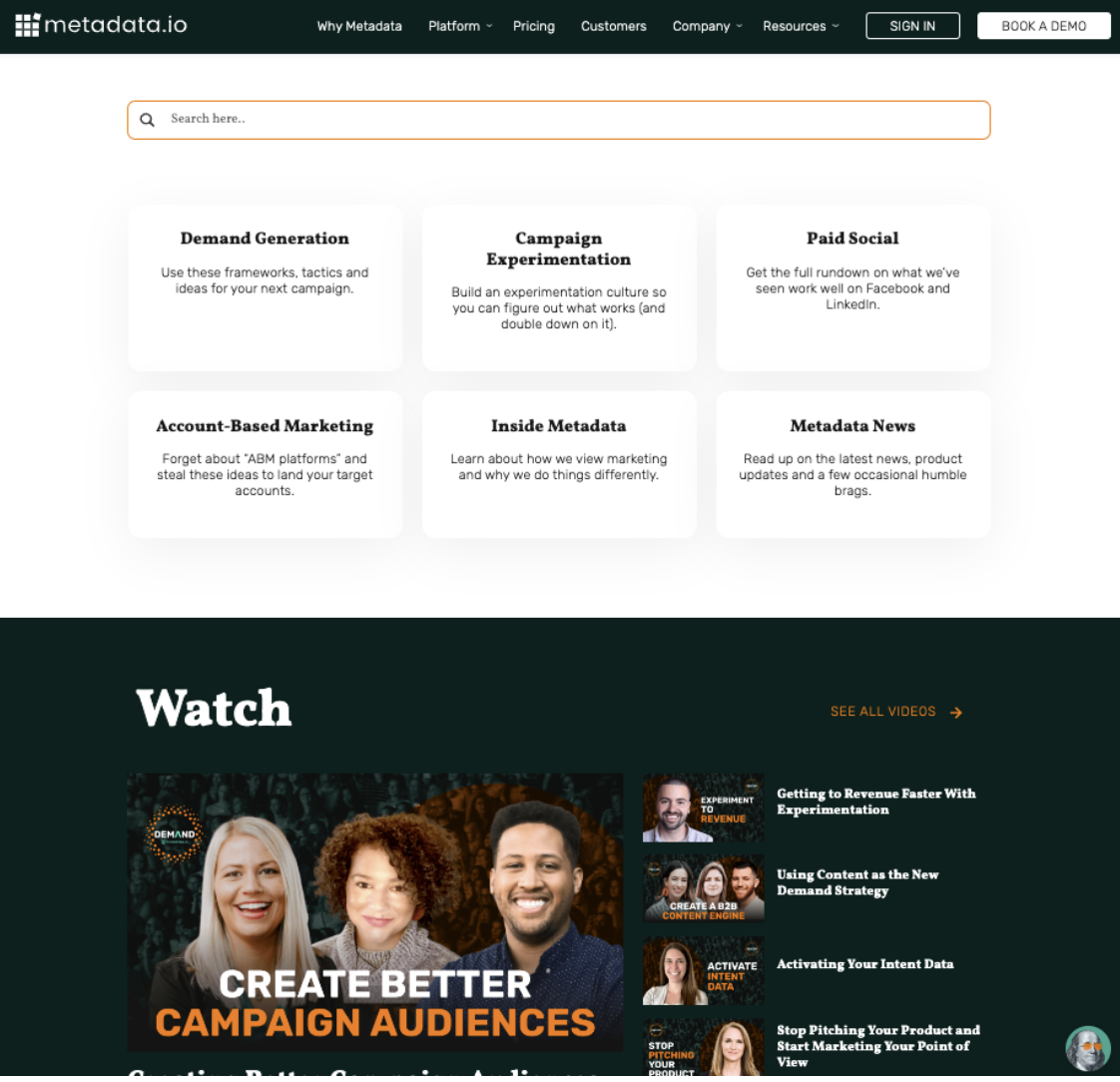 Metadata's hub tells visitors: this is "Where you come to get better at demand gen."
First up? A big search bar to help visitors find exactly what they're looking for.
Front and center is the ability to sort by topic of interest, such as demand generation, campaign experimentation, and paid social. Further down the page, visitors can also choose to browse some of the brand's most popular content pieces (hello, social proof!).
One thing I find interesting about Metadata's hub is that several of the sections invite visitors to "watch", "listen" or "read" some of their high-value content pieces. Technically, this is still breaking the content down into buckets by type — but they do so in a way that caters to how a visitor thinks of consuming the content.
🏄 What you can do
Before overhauling your current blog and resource center (or continuing status quo), it's worth asking: Do we really need a content hub?
To answer that question, start with input from some new customers:
Did they consume any of your content before buying?
How did they find it?
Did they browse any other content on the site?
How easy was it to find what they were looking for?
If visitors are navigating to and using these pages now, they'd likely get more value from organizing your content in a content hub.
Your website analytics may also offer some clues:
How many people visit your blog home page and resource center page now?
Do they click into a variety of posts?
Use the search functionality?
There's also a very real question of resources:
How much can you comfortably invest in building a content hub?
Because these aren't always the easiest instruments to implement. For enterprises with deep pockets there are some great (but pricey) SaaS options that generate hubs. Everyone else may be looking at some custom development work.
I've taken both approaches. The SaaS approach is easier, but you'll pay for it as long as you want to use it. And if you change your mind (or cut your budget), you'll be stuck migrating all of your content out of the platform and back into your website.
The custom development route can be a pain, but once it's finished, you own the product (albeit, probably without AI content recommendations).
How do you organize your content? Send me links/screenshots (nicole.bump@gmail.com) and I'll feature it in future blog and LI post.
August 24, 2022
📓 Article
We tend to suggest deleting pages on your site that are not in any way performing well. I'm talking about pages that are…
Low traffic
Low engagement
Low conversion
(At Ercule, we call them "lemons" 🍋. )
After all, the data does not lie! But data is only one part of the story. 
A content marketer's job is to include subjective factors as well as empirical ones. 
Of course, trying to rehabilitate every page on your site is a waste. So let's talk about how to sort those lemons, decide which pages are worth saving, and start improving the site.
🩺 How to decide if a page is worth saving
There are at least two categories of pages that might be worth keeping, even if their metrics are terrible:
Essential sales funnel topics
Public relations content
Essential funnel material might include the following subjects… 
Use cases
Product comparisons
Case studies
These pages might not get big numbers, but they can resonate with very specific audiences. They convert! Sometimes. And they can be improved.
Public relations content might include the following:
Product updates
Funding announcements
Leadership changes
These pages show people what's going on with the company, and why. To put it simply: this is what good P.R. does, even if there's not clearly compelling conversion data to back it up.
🏄 What you can do
Inventory your worst-performing content, and use the above criteria to form two groups:
Pages to keep
Pages to cut
Deleting pages can feel difficult. Authors might get mad that you're erasing their work. Content managers might see it as a waste of time. 
But you've got clear logic to validate the deletion of any "lemon" page:
The performance metrics are poor
The strategic role is moot
And for those who think that pruning content is a waste of time, remind them that those poorly performing posts can actually drag down other pages:
Distracting visitors from pages that convert
Wasting Google's crawl budget
Making your brand look bad
All of these risks are still in play with the lemons you choose to save. But those should be relatively few after you sort the keepers from the compost.
So the next step is to optimize them across all of the fundamentals;
Content
H-tag structure
User experience
SEO
And you're on your way to having a more impressive, effective, and user-friendly website.
July 28, 2022
📓 Article
There's a lot to be learned from the pages on your site that are already engaging people and converting leads.
These successful pages are a goldmine of insights as to what you're doing right! They're also the most efficient route to expanding your lead generation.
But this doesn't mean that all high-conversion pages are perfect.
So let's look at how to make sense of high-conversion pages, and how to build on their momentum.
🤭 High conversion rate ≠ high conversion volume
Our goal is to amplify the effects of every page that has a high conversion rate. And the path we take will be determined by the traffic that each of these pages is getting.
Because a page with 83% conversion rate sounds amazing! Until you realize that it only gets six visitors per year.
So, traffic volume is a significant factor. You can break up your best performers into two groups:
High volume (High-traffic * High conversion-rate)
Low volume (Low-traffic * High conversion-rate)
Each of those groups calls for a different course of action.
High volume pages are doing basically everything right. To amplify those effects, you can adapt the content for new formats and use it to generate ideas for new blog posts.
For low volume pages, the goal is to increase the number of visitors. Basically, distribution should be your number one concern.
🏄 What you can do
Inventory your site and collect those pages with the best conversion rates. Group them into high volume and low volume pages.
(You can also use the Ercule app.)

For high volume pages:
Create a list of new blog topics based on subjects on this page
Adapt the page to a video, downloadable guide, or webinar *Share it with the sales team so they can use it with leads
For low volume pages:
Link to it from popular pages on your site
Research related keywords that might drive more traffic
Start talking about it on social a lot more. Cut up the content for posts.
And for all of these pages, it never hurts to refresh the h-tag structure and metadata. It makes unknown pages more visible to search engines, while helping the high-traffic pages stay competitive.
July 13, 2022
📓 Article
One of the nice things about strategizing around topics (rather than keywords) is that you can build authority around entire subjects, instead of one-off article ideas.
For example, if you make accounting software – wouldn't it be nice to be the authority on "small business accounting"? 
Of course, picking a great topic is just the beginning. You have to write the right articles, then see how they perform as a group, then adjust.
So let's talk about the importance of tracking performance by topic, and how to do it.
🚊 Why you should track topic performance
When you assess page content performance by topic, you'll get a wide-lens view of the areas in which you're building authority. 
Topic performance analysis can help you understand…
Which topics are resonating with your audience (and Google)
Which specific subjects within a topic are getting the most traction How well each topic is aligned with the sales funnel
Where the most conversions are coming from
These are insights you simply can't get by tracking individual blog posts in an atomized way. 
🏄 What you can do
You can start running topic performance reports, even if you didn't consciously design a topic strategy. A few core topics have probably naturally emerged in your blog over time anyway.
For example: if you're an accounting software brand, you've probably written quite a few posts with 'business accounting' or 'small business' in the title.You can search for those topic phrases within existing blog titles to start running topic analysis. Here's how…
First off, decide on 3 core topics you want to assess. (If you've got more than three topics dialed in, feel free to explore them all.)
Then, using Google Analytics, filter Page Titles in the All Pages view. Search for each topic phrase. Here's a little demonstration: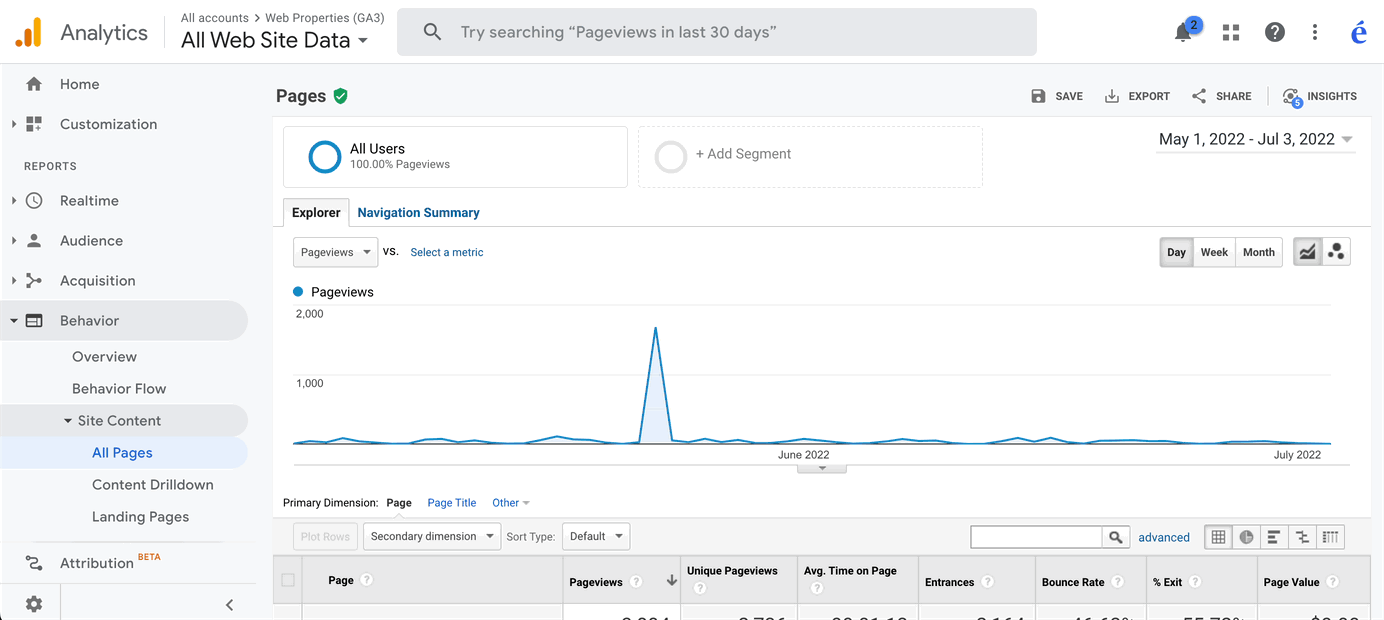 You could also use the handy-dandy Ercule app for a quick inventory (and a less daunting interface). Use the "Library" view, and filter like so: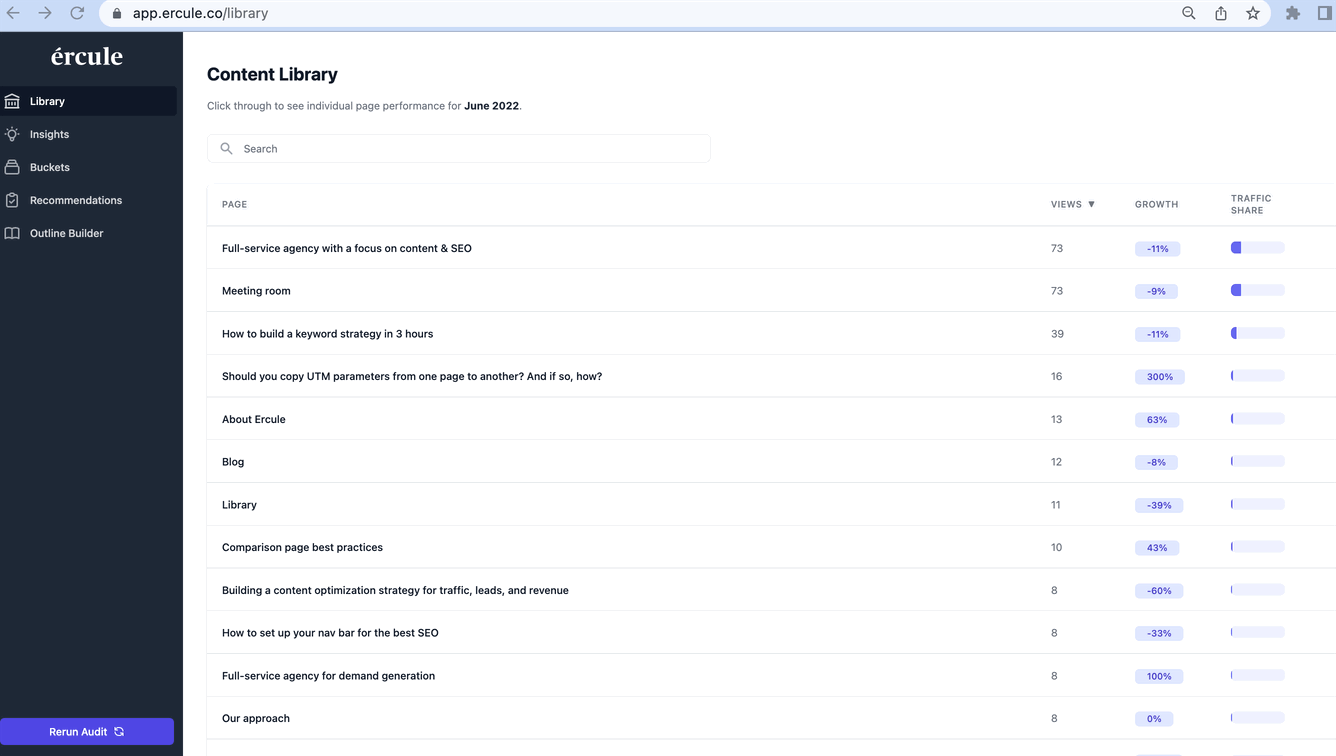 Once you've got data grouped by topic, you can start scanning for insight:
1.Inventory each topic for funnel stage content.
Do you have at least one piece of content for each stage of the buyer's journey? (We're talking, at the very least, Discovery, Assessment, and Decision stage.) 
Make note of any gaps in the content program. Create content to fill the missing sales funnel stages in each topic group. Prioritize this in your content pipeline.
2.Compare individual post performance within a topic group.
You can go with whatever data you've been tracking for individual posts. Just compare them here within the topic category. How are the individual posts different in their traffic, engagement, or conversion metrics? How are they similar?
If engagement metrics are varied from post to post, for example, but they're all showing a decline in Impressions, then it might be time to revise the subjects you use to illustrate your core topics.
3.Compare the different topic groups, in terms of performance.
Which topics are performing best? How is performance consistent across topics? How does it differ?
This can offer insights into which elements of your product and value prop are connecting most with your target audience.