Blog
November 29, 2022
📓 Article
Previously, we explained basic traffic metrics in Google Analytics: what they mean for marketers, and how they can be used to improve organic search performance.
In this post we'll take the same approach to engagement metrics. 
Note: the metrics discussed here are for GA3. We'll be posting a similar guide on GA4 metrics soon.
Why do engagement metrics matter?
Engagement metrics show you what people are doing on a page once they arrive, and the choices they make next.
By collecting data on how people interact with a page, you can also make some informed conclusion about what they think of your page: 
Does the page satisfy their search intent?
Does it compel the reader to explore the rest of your site?
Engagement metrics you can start tracking today
If you're just getting started with Google Analytics, and looking to optimize your website as soon as possible, we recommend focusing on these two metrics:
Why we recommend these traffic metrics 
We recommend these metrics to marketers because they are…
Accessible. You can find these numbers in Google Analytics even if you're not an expert.
Actionable. The data points you toward clear analysis and ways to improve.
Commonly accepted. These are categories that senior business folks can comprehend, appreciate, and work with.
Of course, there are plenty of other engagement data categories: page value, average time on page, the list goes on… And we do track those for our clients.
But if you're doing this all on your own, you don't have all day to spend pulling data. So we think that these three metrics can get you on that path to what's most important: classifying and improving all of the content on your site.
What is Exit rate?
Google registers an "exit" whenever the page was the last page in a session. That is: it's the last page on which Google noticed any activity from a user. So it infers that the person 'exited' – they either clicked over to an entirely different site or closed their web browser altogether.
Exit rate is calculated by [number of exits] divided by [number of pageviews].
What this metric means for marketers
A high exit rate indicates that visitors often don't know what to do next – or don't want to take the next actions you've suggested.
This often because the internal linking on the page needs work. Or your calls to action are not as clear and compelling as they could be.
However, some pages will always have a high exit rate. A purchase confirmation page, for example, is a natural place to have a high exit rate because it's the end of a conversion. So context is important here. (But you could also try to get the visitor to do more after their purchase.)
Example
A visitor clicks around from the "About" page to the "Product" page and then they don't look at any more pages during this session.
The exit will be attributed to that "Product" page. This might mean that you need to add links directing readers to the "Demo" or "Purchase" pages.
Bounce rate
Google registers a "bounce" any time that a page is the first and last that someone visits on your site.
In other words: these visitors clicked on to this page from Google and then left your site altogether, "bouncing" back to whichever page brought them to your site.
What this metric means for marketers
A higher number indicates that this page wasn't what a visitor was looking for. Potential reasons:
Content didn't match the visitor's search intent
Writing wasn't great
UX was frustrating or confusing
Alternatively, a visitor might 'bounce' because the page didn't direct them toward other pages on your site. There were no internal links or calls to action (which can also increase the exit rate). 
Example
The title of your blog post is "How to change privacy settings on your web browser." But the content itself is more of a general, "best practices" page. 
A visitor clicks on your page looking for clear directions on how to change their settings. They don't get it on this page, and don't see any links to pages on your site that satisfy their need. (The vast majority of those visitors won't even look for links – they'll just click back to Google.) 
So they "bounce" back to their Google search and try other links on the search results page.
Bounce rate vs. Exit rate
A 'bounced' page is the first page they clicked on your site. Usually, this means they clicked to it from Google search results. 
An "exit," however, is counted regardless of the previous page. A visitor might have previously been on Google or on a page within your site. 
In other words: a "bounce" is always an "exit". But an "exit" is not always a "bounce."
The challenge with tracking engagement metrics
Tracking this stuff can be frustrating. Here are some specific issues to keep in mind. 
The Google Analytics interface
If you've ever logged in to Google Analytics, you know that the interface can be overwhelming. Bewildering. Terrifying.
If you're trying to really understand it, be patient with yourself. It's going to take some time. You could also lean on the help of experts, or apps that simplify the interface.
(Yes, we have both to offer: the expert help, and the app.)
Updating
Google and other search engines are constantly updating new algorithms (the recent being GA4), as the new metrics being introduced can impact your ranking without even realizing. 
That's why you need to constantly update your site and ensure your page is indexed.
Analysis
As analysis is an important part to improve the performance of your site. Knowing how the data affects your site's ranking is necessary. 
You need to constantly learn and adapt new practices and ensure that you understand the data well, which can be hard to do in GA.
How Ottimo can help
To make the navigation, analysis, and updates easier for marketers who are going it alone, we've launched an app called Ottimo. Ottimo helps marketers strategize and optimize content based on simple, clear analytics and recommendations.
It simplifies the analytics part, and you can easily track and measure different metrics without learning anything new. 
Some of the features of Ottimo include:
Compatible with GA4 properties
Get performance and keyword metrics with Google Search Console
Easily copy and paste page data 
Provides mobile and desktop page speed score
If this sounds like something you want to try, consider signing up for the (free) Ottimo app!
November 15, 2022
📓 Article
Google Analytics (GA) is the only source for a lot of the core metrics that show you which pages on your site are really performing – and failing – in terms of organic search. 
In this guide we'll be explaining traffic metrics, and how marketers can use them to optimize organic search performance. 
Note: the metrics discussed here are for GA3.
Why do traffic metrics matter?
Traffic data helps you answer some of the most fundamental questions about your page performance:
How visible is it in organic search?
How compelling is your page when it appears on a search results page?
The data is objective but the analysis is subjective. If you're a brand new startup, you can't expect to pull in millions of pageviews. But you can aim for next quarter's traffic metrics to improve on last quarter's metrics. 
Traffic metrics you can start tracking today
In Google Analytics, there are lots and lots of traffic metrics. We usually recommend focusing on these two:
Unique pageviews
Entrances
Why we recommend these traffic metrics 
We recommend these metrics to marketers because they are…
Accessible. You can find these numbers in Google analytics even if you're not an expert.
Actionable. The data points you toward clear analysis and ways to improve.
Commonly accepted. These are categories that senior business folks can comprehend, appreciate, and work with.
Google Analytics is rich in different data categories: users, sessions, the list goes on… 
But for the marketers and managers we help, the goal is simply to understand and optimize content performance. When it comes to traffic, we think that these two metrics can get you on that path.
Unique pageviews
Unique pageviews tell you the number of sessions in which your page was viewed. 
This is different from the more raw metric called simply "Pageviews."
Unique pageviews provide a more refined number than regular Pageviews. Unique pageviews remove all the instances where someone might have seen a page twice in quick succession.
What unique pageviews means for marketers
It tells you how many individual visitors have seen this page.
Example: pageviews vs. unique pageviews
A visitor is clicking around your site:
First they visit your About page.
Then they click on the Services page.
Then they click back to the About page.
This is how it will be reflected in the metrics for the About page.
2 pageviews
1 unique pageview
Entrances
The first page that someone visits on your site in a given session is considered the "entrance". The entrance metric tells you the number of times a given page was the entrance.
Entrances can come from any channel: organic search, paid search, social, direct traffic, and others. 
What this metric means for marketers
When a page on your site has a relatively high entrance metric, this indicates that the title and meta description in Google are effective at drawing visitors in.
Example
Somebody searches the term "customer experience" on Google and a blog post from your site shows up on their search results page.
They click on the link, which takes them to the blog page on your site. This counts as an entrance.
If that user clicks away from your site and returns to the same blog post later on in the same session, it will not count as an additional entrance. However, if they return to the page during another session, it will count as a new entrance. 
The challenge with tracking organic search metrics
Tracking this stuff can be frustrating. Here are some specific issues to keep in mind. 
Setting up Google Analytics
Even if you know exactly what you're measuring, it's easy to accidentally skip pages while implementing Google Analytics. 
There's no limit to the number of mistakes that can be made in GA. Your stats can be invalidated for months without you ever knowing it. 
We recommend using a tool like Google Tag Manager to make sure that your entire site is covered.
Finding the data you need
Google Analytics is an amazing feat of data engineering but it has a miserable user interface. For people who are new to GA, it's all too easy to get lost. 
At Ercule, we love GA and we work with it every day. But most marketers don't have that kind of time. That's why standard reporting is recommended. 
(It's also why people hire us to manage that stuff.)
Staying current with the algorithms
Google is constantly introducing new metrics. Even if you ignore them, they may impact your ranking. 
We've all stumbled upon a website that looks like it hasn't been refreshed since the 20th century. It's easy for any site to fall behind the times. And that's especially true when it comes to back-end analytics.
We recommend reviewing your site several times per year to make sure every page is properly indexed. If you can, check in on Google updates. Or follow an SEO expert on social media – someone who regularly notifies the community of big updates.
How Ottimo can help
You can set reminders for yourself to learn, maintain, and update your site (and your skills) for all of the above. You can hire an agency to handle that stuff. Or you can use an app.
We've launched an app, Ottimo, that tracks your traffic data and flags pages for updates. 
Some of the features of Ottimo include:
Compatible with GA4 properties
Get performance and keyword metrics with Google Search Console
Easily copy and paste page data 
Provides mobile and desktop pagespeed score
October 5, 2022
📓 Article
Do you know your company's product positioning statement? A lot of content marketers don't. (Some companies don't even have one.)
A positioning statement determines…
What your product is (ie. Product Category)
Who it's for (ie. Target Audience)
What it delivers (ie. Capabilities)
Why that matters (ie. Jobs To Be Done)
For example, here's a positioning statement from Slack's website:
"Slack is the collaboration hub that brings the right people, information, and tools together to get work done. From Fortune 100 companies to corner markets, millions of people around the world use Slack to connect their teams, unify their systems, and drive their business forward."   Positioning statements are a single source of truth for marketing strategy. They enable content marketers make smarter decisions at a faster pace.   So let's look at position statements, how to leverage them for targeted marketing content, and what to do if your startup doesn't have a positioning statement yet.
🎈 Following your product positioning
When I work with clients on product positioning, I have this simple template that I use:
For ___ our product is a ___ that delivers ___ so they can ___.
So if you ran a seltzer delivery service you could say:
For office managers in charge of 20 to 200 staff, Seltzer Delivery Co is a hydration service that delivers access to high-quality seltzers, so that they can reduce employee burnout due to being totally parched.
(Look, we're improvising here. But hopefully you get the idea.)
All of this data is essential to content marketing. For example…
Target audience informs formats, channels, word choice… all of this is going to change based on your audience. 
Product category makes clear who your competitors are. You can look at topics that they're dealing with, so that's another place that it can roll up with your content strategy.
Features make clear what your product actually does. Those are all potential topics for your topic strategy. 
Jobs To Be Done identifies the priorities of your audience, so you can make sure that each page is speaking directly to them.
When your target audience is office managers, you'll be able to identify specific channels to focus on. LinkedIn might be a good one, for example. Meanwhile, a seltzer company targeting teen consumers has no reason to choose LinkedIn.
Once you have a positioning statement, there are other artifacts that product marketing can create more easily, that you can really use! Things like:
Message pillars – the main ideas about you, your product, and your category that you want prospects to come away with
Differentiators – why someone should become your customer instead of your competitor's (and who you're the best fit for, too)
You need that information because that's going to tie up with exactly what you're going to write about and what makes sense for you to write about.
🏄 What you can do
Get your hands on those product marketing materials. Start with the product marketing team. If there isn't one at your company, look to senior marketing folks. 
Say you're curious about:
Which job titles or personas are the most interesting to your sales team
What product category your brand best fits in
Who are your primary competitors
What features are the most important to your buyers
How those features match up with what those buyers are trying to do
September 26, 2022
📓 Article
Dull, copycat content at the top of a search results page… That's what Google is targeting with its recent Helpful Content Update.
As they put it: content created primarily for search engine traffic is unsatisfying. So they're tweaking the algorithm to reward content that is useful, insightful, satisfying.
We think this is great news. Yet we've noticed some nervous social media chatter between content marketers about the update.
If you're already creating thoughtful, targeted, effective content that's fun to read, you should be excited about the update! And if you're a paint-by-numbers SEO hacker, it's not too late to change your ways.
So let's take a look at it, to make sure you can be excited… or get on the path to excitement.
🤖 Google's Helpful Content Update explained
Google releases updates throughout the year. Some are targeted at discrete components (eg. product reviews) while others are broader (eg. "core" updates).
The Helpful Content Update is sort of in between. It's targeted at content quality, but 'quality' can be a hard thing to pin down.
So Google's main prescription for this update is: think of quality content as "people-first content." Basically: pages written for humans, not search engine bots.
According to Google, people-first content…
Is useful to your audience
Demonstrates first-hand expertise
Provides a satisfying reading experience
The kind of content it seems to be describing is rooted in very basic marketing fundamentals: knowing an audience, solving their problems, speaking their language.
🏄 What you can do
Take a read through Google's guidelines for high-quality sites.
Then ask yourself:
Are you creating content that fits this criteria?
How can you improve your existing content by these standards?
The list of questions on the guidelines doc is pretty long. Even the most competitive content teams could probably find at least one area to improve. Here are a few standouts:
Does the article provide original content, research, or original analysis? Basic takeaway: each piece should have something unique, even if it's just point-of-view.
For top-funnel content, this can mean simply including a section that describes your brand's perspective on a given pain point or technology.
If you do have some original research or white papers in the library, consider finding ways to weave that data into existing posts throughout the sales funnel to enhance their insights.
Is this article written by an expert… or is it more shallow in nature? Basic takeaway: involve a subject matter expert in the creation of every post.
That doesn't mean engineers need to write every post. But interviewing subject matter experts (SMEs) in the process is essential – especially if the writer isn't an expert.
A quick 15-minute chat can inform the angle of a new post. And a few choice quotes can be inserted to existing posts.
Is this the sort of page you'd want to bookmark, share with a friend, or recommend? Deep in your heart, you know the answer to this one. Stay honest.
September 26, 2022
📓 Article
Nicole Bump of Bump Inbound is our guest author this week. (Nicole also co-created the Content Strategy Quickstart course with Ercule.)
No one goes to a website thinking, hmmmm, do I want a blog or an ebook?
So, why do we separate different types of content into different sections of the website?
Why are ebooks and other "Resources" kept separate from blog posts? Why are both groups kept separate from podcast pages? And from webinars and case studies?
🧐🧐🧐
If you're looking for information on real-time data analytics, for example, wouldn't you rather be able to view everything on that topic at once — rather than searching through multiple sections of the site?
A centralized marketing content hub could offer a much more effective B2B content experience.
🍱 What is a content hub?
A content hub is a single place visitors can go to find all kinds of curated brand content (e.g. blog posts, guides, webinars, infographics, videos, etc.).
A marketing content hub typically has functionality that allows you to easily search through all content, as well as filter by a set of brand-defined categories.
For example, a content library hub may offer filters by:
Topic (generally, evergreen pillar topics)
Industry
Content Type
Role/persona
The primary benefit of a content hub is delivering an experience that makes it easier for users to explore the specific topics they're interested in (rather than navigating your content silos).
Metadata.io offers a pretty great example.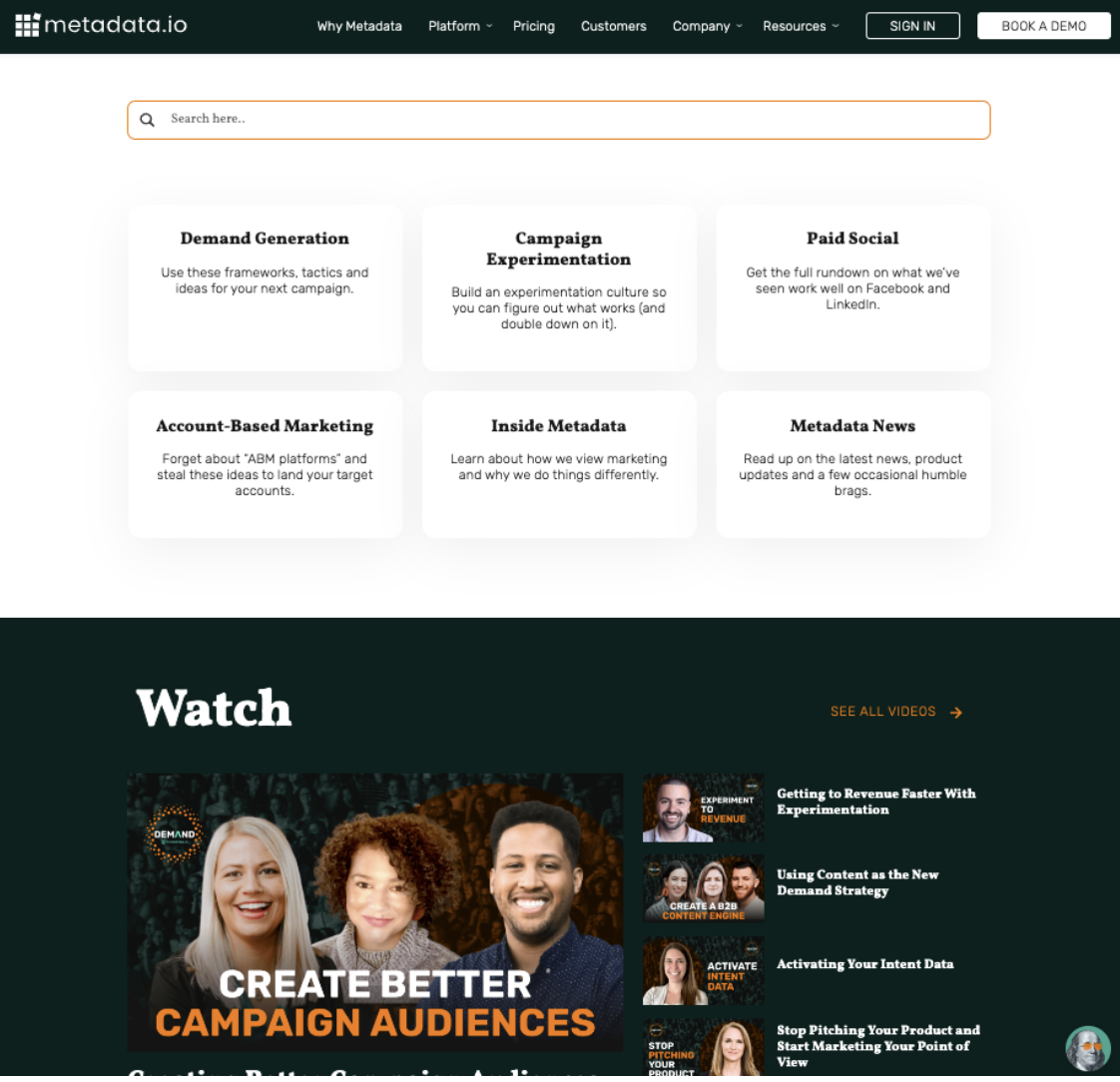 Metadata's hub tells visitors: this is "Where you come to get better at demand gen."
First up? A big search bar to help visitors find exactly what they're looking for.
Front and center is the ability to sort by topic of interest, such as demand generation, campaign experimentation, and paid social. Further down the page, visitors can also choose to browse some of the brand's most popular content pieces (hello, social proof!).
One thing I find interesting about Metadata's hub is that several of the sections invite visitors to "watch", "listen" or "read" some of their high-value content pieces. Technically, this is still breaking the content down into buckets by type — but they do so in a way that caters to how a visitor thinks of consuming the content.
🏄 What you can do
Before overhauling your current blog and resource center (or continuing status quo), it's worth asking: Do we really need a content hub?
To answer that question, start with input from some new customers:
Did they consume any of your content before buying?
How did they find it?
Did they browse any other content on the site?
How easy was it to find what they were looking for?
If visitors are navigating to and using these pages now, they'd likely get more value from organizing your content in a content hub.
Your website analytics may also offer some clues:
How many people visit your blog home page and resource center page now?
Do they click into a variety of posts?
Use the search functionality?
There's also a very real question of resources:
How much can you comfortably invest in building a content hub?
Because these aren't always the easiest instruments to implement. For enterprises with deep pockets there are some great (but pricey) SaaS options that generate hubs. Everyone else may be looking at some custom development work.
I've taken both approaches. The SaaS approach is easier, but you'll pay for it as long as you want to use it. And if you change your mind (or cut your budget), you'll be stuck migrating all of your content out of the platform and back into your website.
The custom development route can be a pain, but once it's finished, you own the product (albeit, probably without AI content recommendations).
How do you organize your content? Send me links/screenshots (nicole.bump@gmail.com) and I'll feature it in future blog and LI post.
August 24, 2022
📓 Article
We tend to suggest deleting pages on your site that are not in any way performing well. I'm talking about pages that are…
Low traffic
Low engagement
Low conversion
(At Ercule, we call them "lemons" 🍋. )
After all, the data does not lie! But data is only one part of the story. 
A content marketer's job is to include subjective factors as well as empirical ones. 
Of course, trying to rehabilitate every page on your site is a waste. So let's talk about how to sort those lemons, decide which pages are worth saving, and start improving the site.
🩺 How to decide if a page is worth saving
There are at least two categories of pages that might be worth keeping, even if their metrics are terrible:
Essential sales funnel topics
Public relations content
Essential funnel material might include the following subjects… 
Use cases
Product comparisons
Case studies
These pages might not get big numbers, but they can resonate with very specific audiences. They convert! Sometimes. And they can be improved.
Public relations content might include the following:
Product updates
Funding announcements
Leadership changes
These pages show people what's going on with the company, and why. To put it simply: this is what good P.R. does, even if there's not clearly compelling conversion data to back it up.
🏄 What you can do
Inventory your worst-performing content, and use the above criteria to form two groups:
Pages to keep
Pages to cut
Deleting pages can feel difficult. Authors might get mad that you're erasing their work. Content managers might see it as a waste of time. 
But you've got clear logic to validate the deletion of any "lemon" page:
The performance metrics are poor
The strategic role is moot
And for those who think that pruning content is a waste of time, remind them that those poorly performing posts can actually drag down other pages:
Distracting visitors from pages that convert
Wasting Google's crawl budget
Making your brand look bad
All of these risks are still in play with the lemons you choose to save. But those should be relatively few after you sort the keepers from the compost.
So the next step is to optimize them across all of the fundamentals;
Content
H-tag structure
User experience
SEO
And you're on your way to having a more impressive, effective, and user-friendly website.