Blog
December 1, 2020
👷‍♀️ Change Log
👋 Here's a quick update on how we made Ercule better in November 2020.
We've run a couple of interviews with experts in areas adjacent to marketing to see what we can learn from them. This month, we talked to Jason Yee, developer advocate at Gremlin, and Bill Miksich, head of Services at Customer.io.

Revised and refined our content pipeline.

Experimented with video content as a more digestible way to share insights.

Made some new friends in the broader marketing community.

Established a hybrid team-meeting / tennis-match on Fridays. (COVID-safe and Zoom-free!)
November 20, 2020
📓 Article
This article was written with help from Bill Miksich, Head of Services at Customer.io. Thanks, Bill!
So you studied poetry in college and now you're generating content for a sophisticated A.I. accounting software brand. Welcome aboard! You're not alone.
Lots of our clients make amazing SaaS products with brilliant tech – and this can be a source of anxiety for their marketing departments. Many content marketers do not have tech backgrounds and they're terrified of sounding ignorant.
Good news: content marketers don't have to enroll in code camp just to talk about their SaaS products in a more effective way. You just need to embrace the resources already at your disposal.
The Services team is a great place to start.
Consult the in-house experts
The Services team deals with customer pain points on a daily basis. They provide technical solutions in an accessible language, and at least part of their day involves comforting anxious clients.
Talk to them. They know how people are using the product. They know what's frustrating about the product. Use cases and solutions – for content marketers, these are the keys to designing resonant content with more precision.
Be curious – here's how
Are you worried about your ability to talk tech with buyers or end users of your product at the potential clients? Here's a fix: connect first with the client's content marketing team. Yes, the content marketing team! You've got common ground on which to build rapport and, more importantly, you speak a common language. Use it to discuss the other team's customer experience problems and how they're using content to fill in the CX gaps.
Use your peer network when composing content too. Say your company sells an accounting platform for businesses. If you're generating a 'Guide To Better Accounting' white paper, reach out to content marketers at friendly competitor companies. You'll be surprised by how willing people are to share their insights and collaborate.
You don't have to know everything. You just have to be curious. Sincere curiosity can be enough to win people over for an interview. That curiosity can lead to great questions – and putting those questions to use in interviews will help you build confidence.
Use service documents as marketing materials
Content that's useful for the services team can establish your presence as a reliable expert. Educational tools often make the best marketing assets and your Services team probably has a ton of them already. Services teams collect and generate high-quality content – docs, recipes, technical explainers – to help users work through frustrating elements of the experience.
Let's say a sales lead has questions about how to get the most out of your product but your content marketing library doesn't have any Best Practices material. You might wind up referring them to a document on a competitor's site and that's never a good look. However, your Services team likely has useful content in this vein since they spend a lot of time onboarding new clients.
Content teams and Services teams can help each other out when it comes to documentation by noting gaps in content libraries and collaborating on new content. Just as marketing team members get self-conscious about their technical knowledge, back-end team members get self-conscious about writing content. Working together, everyone can play to their own strengths.
Develop empathy
When your marketing methods just aren't connecting, there might be an empathy issue. Consulting with other customer-facing departments can help, but sometimes the solution is necessarily personal.
You can access empathy for customers by trying the product on your own. It goes beyond the demo. Really try putting it to work and take note of what you enjoy and what's frustrating. This also gives you first-person testimonial talking points for future content. People appreciate the voice of experience. (On the flipside, if you're creating filler content just for the sake of publishing it, your audience is probably going to notice right away.)
Observe how you and your team are talking about the product. It can be tricky to get the distance you need to critically assess yourself in this way. Try recording your conversations with team members and clients alike. A tool like Gong can be really helpful here. Collected transcripts can quickly show the deficiencies in your current marketing language. Why is that? How can your team better integrate these elements?
Conclusion
Yes, you absolutely need to understand what you're selling. But relax: you don't have to know everything about a product in order to generate content that is useful, engaging, and authentic.
Play to your own strengths and lean on the knowledgeable folks in your network when you start to feel out of depth. Dig into the educational assets that your company already has – these can be phenomenal marketing tools. And don't burn yourself out with a crash course on the tech. Instead, spend some of that energy getting familiar with the product in a hands-on way.
As you're creating content, think about the approach that a services team would use. Services doesn't sell products, but they do help customers use your product effectively, build confidence in the solution, and think big-picture about what they're trying to accomplish. Don't try to drive customers to a particular outcome or a way of thinking, but do set the foundation for successful work.
Customer.io is a lifecycle messaging platform that takes real-time data from your app and gives your product and marketing teams the messaging tools they need to create automated experiences. Customer.io serves over 1,700 customers in SaaS, finTech, IoT, EdTech, and subscription businesses.
November 9, 2020
📓 Article
This article was written with help from Jason Yee, Director of Advocacy at Gremlin. Thanks, Jason!
Developer advocacy is a way of giving software engineers a voice within your company, and helping them be successful with your product. Related disciplines include community management, which is about building a community around your product, and evangelism, which is about more deliberately promoting your product, through tools, assets, and building relationships.
All of these are ways of building interest that rely on deeply understanding users, building relationships with them, and constantly demonstrating how the product solves their problems. There are some specific lessons from this practice that are helpful for all marketers.
Your audience wants to be unblocked
Your audience is trying to accomplish a task. Whether it's an HR manager setting up rubrics for employee performance, a sales leader trying to close more deals, or a software engineer trying to solve a very specific technical problem – your audience is looking for ways to solve very specific problems.
The goal of developer advocacy is to unblock the work of developers. But as a marketer, you'll do your best marketing when you think about unblocking the work of your audience.
What's getting in their way, today? How does your product address those problems, specifically? And what content can you produce that will help alongside your product? For the HR manager, maybe it's a template for performance reviews, or a guide to setting goal areas, or something else. Those assets attract visitors, and they work alongside your product to help solve your users' problem.
A deep understanding of your product is key
Someone working with developers has to have a detailed technical understanding of what it is that their product does, and how. It isn't much use if, at a tradeshow, a technical evangelist can't answer detailed questions about what their product does.
But a deep understanding of your product can be helpful to anyone in a marketing role, too. For demand generation, the specific problems of a customer can show up in search terms for paid advertising and landing page copy. For content marketing, knowing what your product does is important for generating content ideas, and then promoting them with the right language on social and other channels. Even brand marketers should have a good sense of what the product really does – if a product solves a problem by increasing ease of use, that might result in a different brand message from a solution that involves saving money or time.
It isn't necessary for everyone to be able to effectively pitch, or even understand a lot of technical details. But knowing enough to develop empathy with customers can improve your marketing dramatically. Otherwise, you end up talking in vague, ineffective ways.
Being not-sales helps you close the sale
A big part of marketing is building credibility over time. Most marketing tactics have this as a goal, at least indirectly. For example, advertising can make your brand seem more real, and communicate your value proposition in a memorable way. High-quality blog content conveys expertise. Even excellent design can help because it makes you appear thoughtful about your product and what it delivers.
Buyers know when your motivation is to close a sale, and that undermines credibility; this is particularly true when marketing to developers who are generally experts in your product's domain.
It works better when someone else is involved who's viewed as being there to educate, rather than sell. That person can accurately and honestly answer questions about whether a product will solve a specific use case, and is viewed as an educator, rather than a seller.
Documentation makes great marketing
An often-overlooked but major driver of traffic for a lot of our clients is product documentation.
One obvious reason is that customers need access to documentation in order to use your product. But documentation can also be a valuable tool to reach people who are not customers yet. Documentation builds credibility by:
Giving visitors a sense of what it's like to use your product. Is your documentation well-organized, easy to use, and comprehensive? Is its language and tone clear, but also warm and accessible?
Showing the problems your product solves, what it can do, and what use cases it's for – particularly if it contains wide-ranging tutorial and use case content,
Explaining how your product has evolved over time, and what new features have been released.
Laying out exact technical specifications.
Today, documentation is viewed as critical for developer-facing products. But in fact, for all products, documentation is an opportunity to sell the product (and, by the way, increase customer satisfaction and reduce support costs.)
Conclusion
Marketing that frustrates, annoys, or confuses prospects is extremely common and is becoming less and less effective over time. Take inspiration from advocacy and evangelism teams to keep the focus on credibility, authenticity, and value – which can help build a far more effective marketing funnel, too.
November 1, 2020
👷‍♀️ Change Log
👋 Here's a quick update on how we made Ercule better in October 2020.
Mostly, we've focused on improvements to our internal processes.
You'll also see us sharing more on social, particularly LinkedIn and various Slack networks.
October 8, 2020
👷‍♀️ Change Log
October 3, 2020
📓 Article
Pages that explain how your product compares with competitors – they're extremely helpful for your prospects, and for Google, too.
There are a few ways to put these pages together. Let's say you run a service called Badminton. You could own:
The phrase "Alternatives to Badminton".
Similar phrases for your competitors – if your competitors are TableTennis and Squash, try owning "Alternatives to TableTennis" and "Alternatives to Squash"
Phrases that specifically compare your product to these competitors, like "Badminton vs. Squash"
Phrases that help prospects understand how to choose a solution in your area, whether or not they specifically mention your competitors
Building pages like these can:
Help your customers evaluate whether your solution is the best fit for them
Bring you to awareness with customers who might not already know about you
Help you more deals where your solution is (or appears to be) a better fit
Where to focus when building comparison pages
We've outlined several different approaches in the first list above – and you probably don't have the resources to produce all of this content at once.
Mostly, where to focus should be decided by where the search volume is.
For example, if you're small or a new entrant, it might make sense to first build out pages that show you as an alternative to your larger competitor. That lets you take advantage of interest associated with that competitor. On the other hand, if you have some traction, you might want to invest the resources to inform customers who are looking for alternatives to you.
Once you've decided how to attack building these pages, it's time to start building them. The first step is to make sure these pages "frame the conversation" with your prospect.
Framing the conversation
In every conversation, we present different framing by emphasizing different information – even if all the information we provide is true, we can show different lenses on it.
As a marketer, you want to give true information, but you can certainly do it from the viewpoint of your product, focusing on the feature categories that you think are the most important, and that are likely to lead to a better experience for the user overall.
Heap does a good job of this. They choose comparison points like "Easy to implement" and "Access to complete historical data" which they believe are the most important to the user (and where they can win).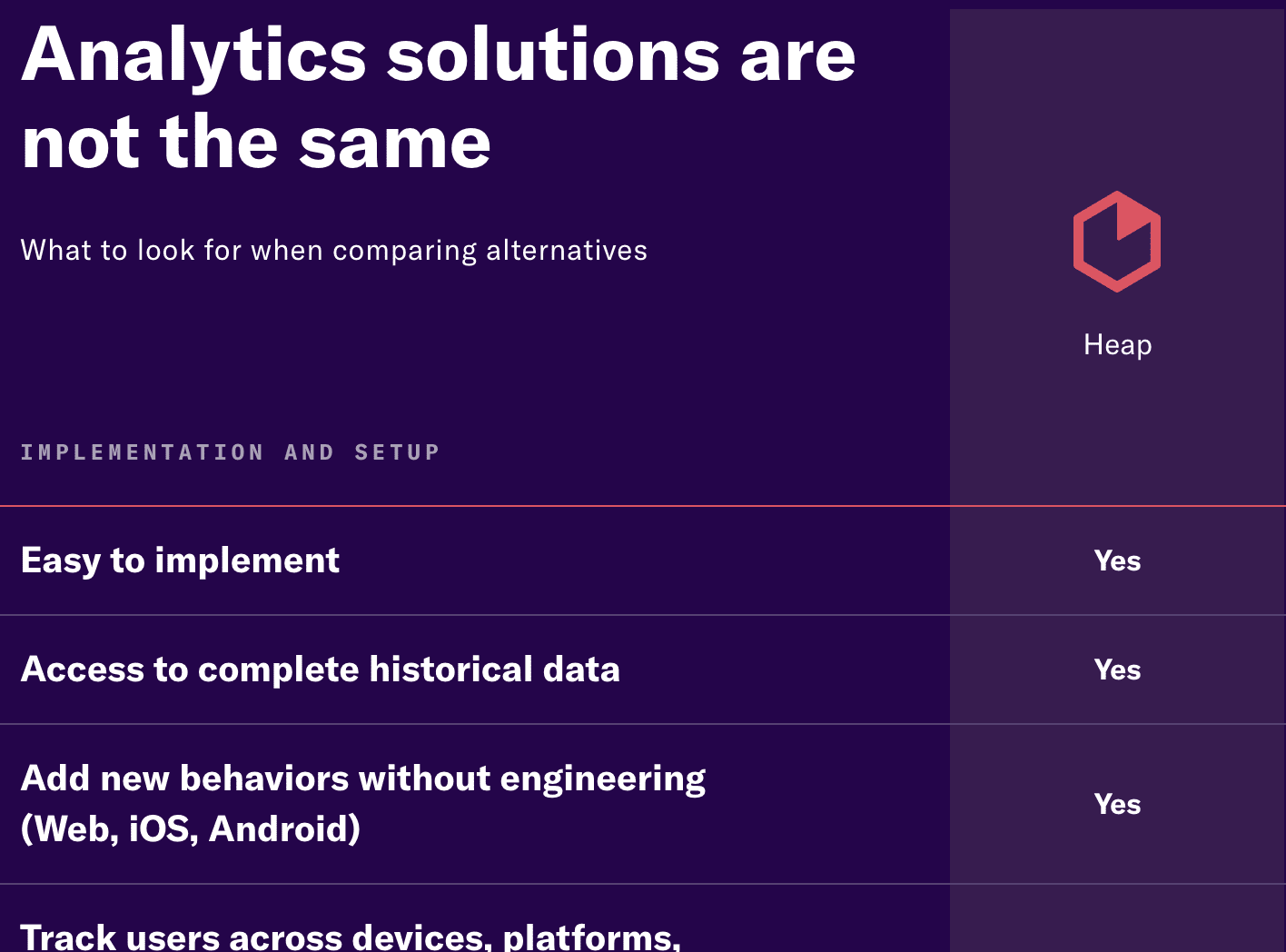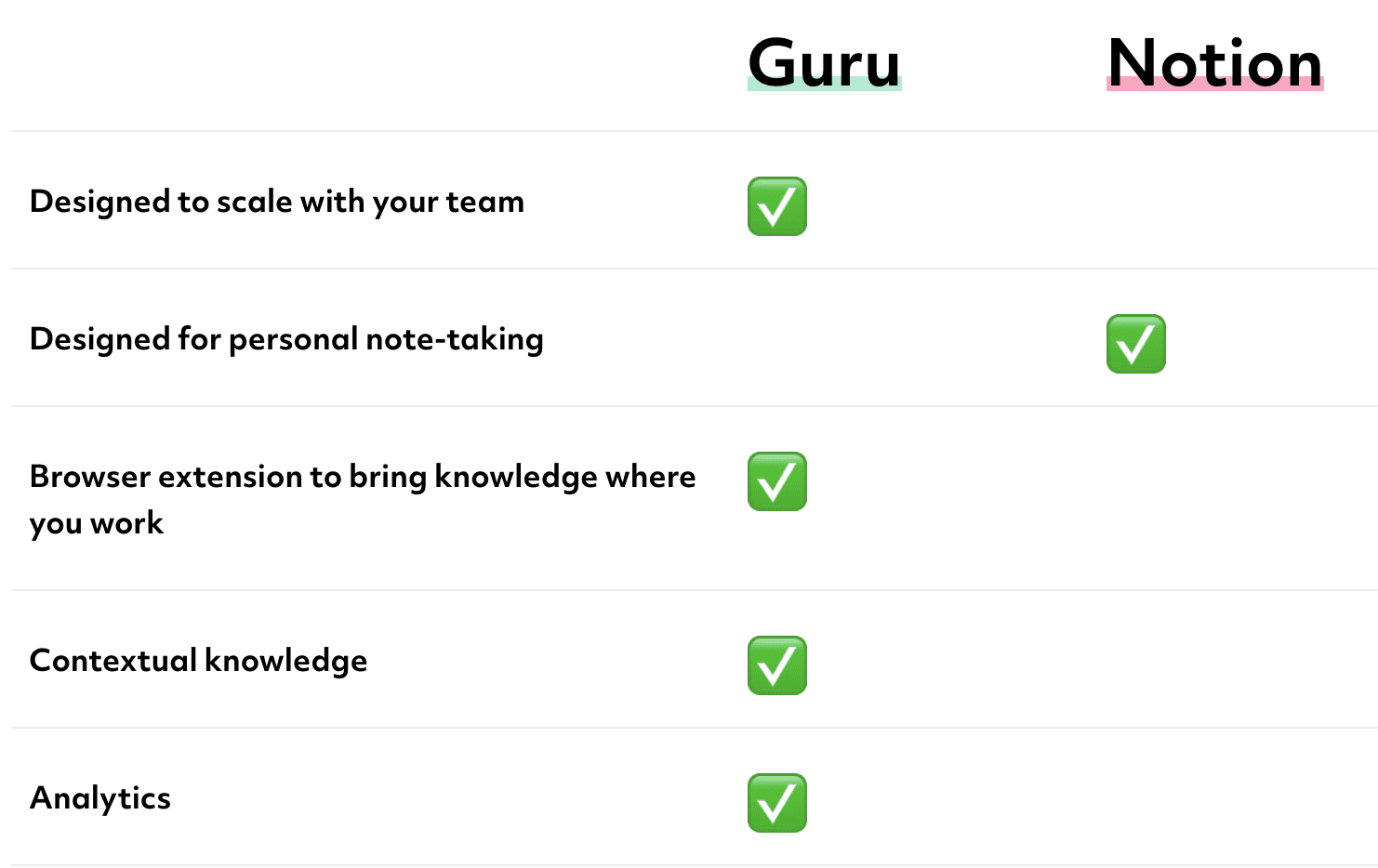 Don't compare yourself to your competitors based on what they think is important. Compare yourself based on what you think is important.
Elements to include on comparison pages
Once you've decided how to frame the conversation, you'll probably build some kind of comparison chart as in the examples above. That's a pretty basic tactic, and in addition to a comparison chart, there are a few other items you can include on your comparison pages to make them even more effective.
Testimonials can be extremely powerful to show exactly who your solution is better suited to. PieSync has some of these on its comparison pages versus Zapier. However, these can be pretty hard to come by, and it's critical to keep these up to date. A more sustainable long-term strategy is to use more generic testimonials and keep them up to date with all of your others.
Sites like G2Crowd provide crowdsourced reviews and statistics comparing different solutions. If you can keep these reviews up to date, they can be a powerful tool to show the differences between your solution and another.
In addition to specific comparisons to your competitors, it's also important to include your standard product messaging. Remember that many visitors to your page will not know who you are, who uses your product, or how you price. This is all important information to include, everywhere.
Migration information can be helpful for prospects. If it's easy to move from a competitor's product to yours, include information about this capability or service on the page. Doing this removes one of the major barriers to consideration: switching costs.

Once you've put together multiple compare pages, add a central location for all of them. Toast does a good job of this. A possible downside to this strategy is that if your competitors aren't well known, but you are, you end up exposing your visitors to alternatives they may not have been aware of. However, even if you are doing that, that gives you a powerful way to frame the conversation about these competitors.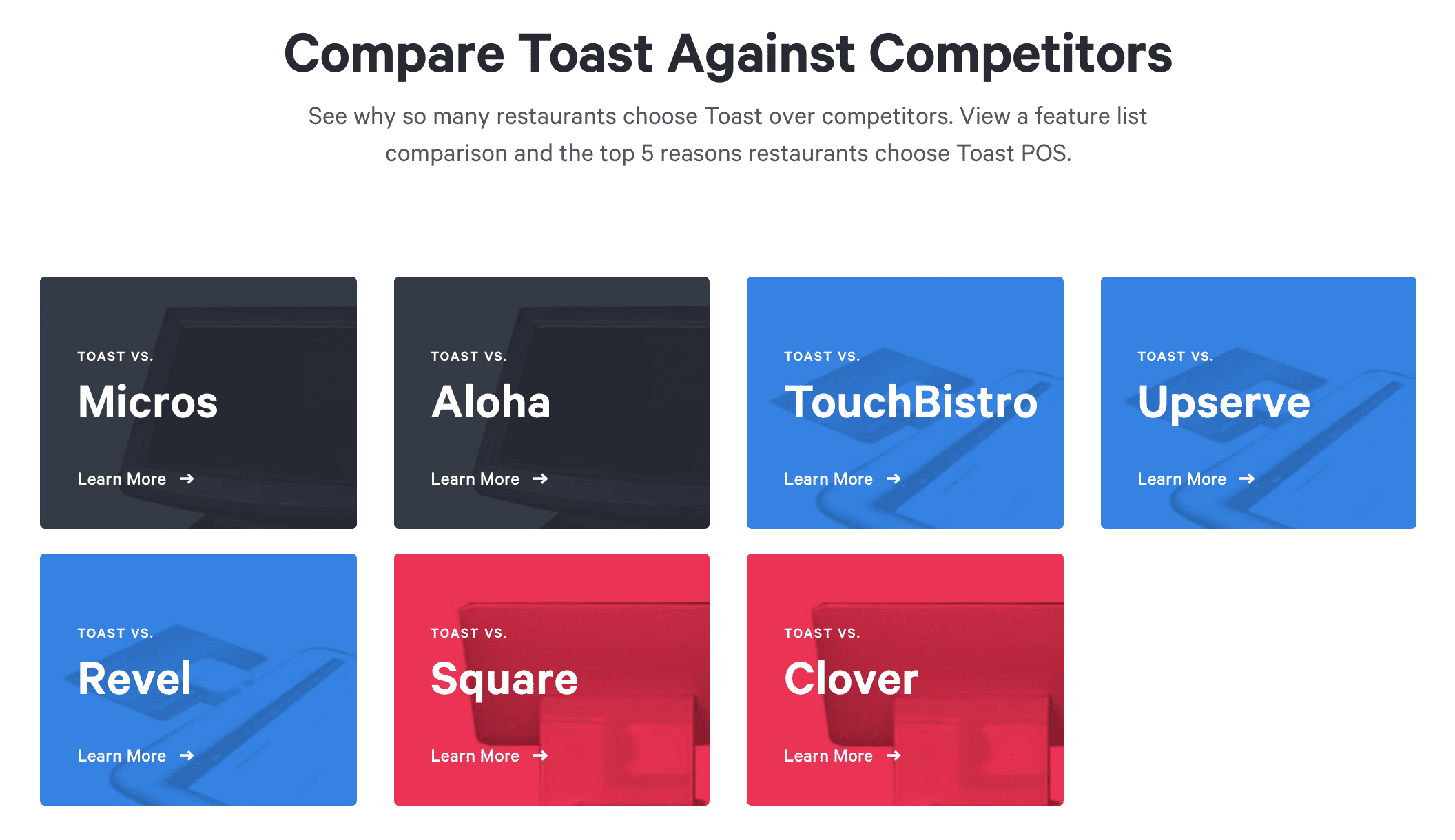 Other considerations for comparison pages
If a user is on a comparison page, that likely means they're close to making a purchase decision or are, at least, actively researching. In that case, it's useful to include live chat so that you can quickly answer other questions that come up.
If you have a sales team, it's also critical that your sales teams have the information that's on the comparison pages. Even better, originate comparison page content from content your sales teams are already using.
Lastly, strongly consider putting a retargeting pixel on your comparison pages. Visitors here are likely to be worth actively engaging through some kind of paid retargeting program.
Conclusion
Comparison pages can be incredibly valuable selling tools and helpful for prospects as they make decisions about whether to buy your product. When building them, think strategically about what message you want to send and how you want your prospect to think about you versus your competitors. There are lots of other things you can do to make these pages successful, too – sharing them with your sales team, offering live chat, and generally creating a comprehensive resource for switchers and potential switchers.
October 1, 2020
📗 Field Note
From a member of our content marketing team:
I've been writing web content now for over a decade but am afraid to code. Upload a file to the CMS? You got it. Send a plain text doc to the web team? Gladly. I've even been known to paste text in the occasional WYSIWYG. But ask me post to my copy in HTML and I start to shiver.
Ercule has a small team and we blog with a static site generator, so my team kindly nudged me to get in the back-end.
So I've started using Markdown and I think it's the perfect content writing experience. Here's why.
It's a less intimidating workspace to enter
When first presented with Markdown, my first thought was: I can actually see the English there among the code. It's not what I've come to expect from coding interfaces. My eyes gloss over at the sight of Javascript and I feel like a relic of a distant century. The syntax is minimal and often intuitive which enables a n00b like me to think: I could do this.
It uses visual analogs
I start an unordered in Markdown basically the same way I would in a Google doc or even a word processor: an asterisk and then a space and then I type on. Numbered lists? Equally intuitive. Creating a task list requires actual Markdown language – but the command itself is a nearly literal-visual translation.

That is, it takes on the visual shape of a task list, the same way this looks like a person shrugging: ¯\_(ツ)_/¯. (Now if only the Markdown code for emojis were always so obvious.)
No toolbars required
The basic blog formatting I need is easily typed out in Markdown, which I prefer over a WYSIWYG simply because it distracts less from the act of writing. This means that I also have to actually learn the language as I go, rather than relying on buttons, which does interrupt workflow a bit. But I appreciate having to learn the language.
I've wanted to know how to code in the same way that I prefer cooking my own meals over hitting up the drive-thru. I was overdue for a way in, and Markdown is it.
September 29, 2020
📓 Article
The 2 most basic components of product marketing are:
Positioning: How you and your customers should think about your product, generally
Messaging: What you say to customers to communicate your product's purpose and value to them
Both of these should underpin what you write and how you distribute it.
Product positioning
Imagine a company whose sole business is catering for office lunch; we'll call them LunchEx.
In their product positioning, LunchEx can make some choices about how to talk about, and categorize, the service they provide. LunchEx needs to figure out:
What type of business they are. A restaurant that's delivery-only, or a delivery service with a kitchen attached? You could imagine how these might be the same business. But each suggests different competitors, pricing, and offerings. Each occupies a different position in your brain.
Who their customers are. Is their customer a startup CEO who wants to be able to easily provide in-office lunch, or a facilities manager who's looking for a standard solution to cater meetings? Again, same business with very similar activities, but positioned and talked about differently.
What problems they solve. Do they improve employee happiness (because the food is so good), reduce cost (because they're good at inventory management), save time (because it's one click to cater a meeting?) LunchEx probably solves all of these problems incidentally, but there are a few they should make a decision to focus on.
What activities (or competitors) they replace. Do you sign up with LunchEx instead of having a company DoorDash subscription? Or does LunchEx let you postpone building a company cafeteria? Again, maybe both, but product marketing can help you think about where to focus.
All of these are fundamental questions about the positioning of the same, or very similar product – but they all suggest different answers to the space that the product takes up in prospects' minds, to the followup questions they might ask, and even to the ways in which LunchEx might expand.
Product positioning and content strategy
All of these decisions about your product suggest:
Different topics and keywords you should target
Different content that you should produce
Different strategies for distributing and promoting that content
Following the LunchEx example a little further:
If LunchEx is a delivery service that specializes in food (as opposed to a restaurant that does delivery)…
…that suggests a higher weight on people looking for "food delivery service", as opposed to a restaurant that happens to deliver, which suggests needing to target different cuisines with the "delivery" keyword. And that suggests content that relates to how to choose a food delivery service, for example.
If the problem LunchEx solves is "meeting catering"…
…that's an important topic, especially if there are marketing communication artifacts or copy about this problem already. And that suggests content that relates to how to run more successful meetings or how to choose a caterer.
And of course, the use cases, such as "food health and safety at the office", "ethically-sourced office lunches", and "cost-effective catering"…
…are all possible topics either on search or in another medium – if that's what LunchEx is targeting as part of their marketing strategy.
Product messaging and its effects on content strategy
Once you've made a decision about your product's positioning, another big question is the messaging used to talk about the product.
The messaging is the words that you say about your product, rather than the category it occupies and how your prospects think about it. In the same way that product positioning guides what you talk about, product messaging can do the same for the words you use.
For example, for LunchEx, your messaging pillars might include talking about how LunchEx:
Saves money – because LunchEx is cheaper or more cost-effective
Makes your employees happier – because they save time on ordering, because the food's better, because ethically-sourced ingredients are used, etc.
Ensures health and safety – because LunchEx ensures certain ingredients are not used; because of LunchEx's inspection record
Each of these can also provide another wealth of topics to use in content marketing:
Ways that businesses can save money
Ways to improve employee happiness
Ways to improve health and safety
Ways to deal with food allergies among employees
Information about employers' legal liability for catered lunches
And so on.
Content distribution and product positioning
Once your content has been produced, you also need to distribute it. And this is where product positioning comes back into play. Who's the economic buyer, and who are the interested parties? Who will recommend your product and talk at your conferences? Making this determination has a huge impact on the distribution strategy for your content.
If your product is intended for facilities managers, that suggests a different perspective on the connections you need to cultivate on LinkedIn, the Slack communities your content marketing team will want to join, and the publications where you can syndicate content.
For example, a product that simplifies life for facilities managers might be more successful in a facilities management LinkedIn group, or through promotion in partnership with a company that provides package check-in services.
On the other hand, if your product solves problems for startup CEOs and other team leaders, your strategy for finding those people will be completely different – it might involve partnering with an incubator or VC, joining exclusive Slack communities, or taking advantage of referrals.
Conclusion
Research on what topics are popular is very important, but it should come second to a basic understanding of what those topics are and who cares about them. Product marketing drives content marketing, not the other way around.
September 12, 2020
📗 Field Note
(Re)launched in 2018, Google Discover is Google's newsfeed-like experience that proactively presents information to logged-in users before they search, on topics that Google thinks are interesting for them.
For example, a user might see on their Google homepage a guitar tutorial, or a specific news item that's similar to what they've read before.
We expect Discover to contribute very little traffic to B2B publishers. Discover appears to surface mostly entertainment- and news-related items. In addition, Discover updates the newsfeed constantly, which means evergreen content is less likely to show up, and probably to be tapped on, than more current content.
Inclusion in Discovery requires best practices around content tagging, including publication date, author, and contact information, as well as setting image previews to large. See Google's content policies for more. Most of these are best practices, but some may require special effort which for most B2B marketers won't make sense to invest.
This article from Search Engine Journal includes more statistics and information about how Discover works.
September 6, 2020
📓 Article
A lot of companies – especially those starting out with content marketing – look to Medium to host their blogs. There are a couple of reasons this is appealing:
Medium might give you access to a broader audience than you can otherwise reach
Medium (sort of) replaces a CMS – making it really easy to post new content in a way that's quick, well-understood and attractive to your audience.
In general, we don't recommend that you host your blog on Medium. (At least not exclusively.)
But there are ways to integrate Medium with your content strategy in a way that benefits your overall search presence. The same is true of Google – but with both sites you want to leverage their reach in a strategic way so you can realize some benefit.
When you post on Medium, you're giving up some control of your content
Posting on Medium provides a lot of advantages – a built-in audience, attractive layout, easy posting, and some useful widgets, including social sharing, highlighting, and embedding of approved widgets.
But submitting your content to Medium means giving up some control of how it's presented. Medium:
Controls the presentation of your content, including fonts, colors, design, and layout
Limits how and where you can add calls to action
Is the target of any backlinks content receives
Limits your ability to export posts in a way that's easy to migrate somewhere else
Lets you see only specific analytics related to your content
Prevents you from retargeting visitors to your Medium posts
Yes, but don't you get broader reach on Medium?
Potentially, if you get really good at writing content that Medium's audience wants to see. But in that case, why not get good at writing content that your audience wants to see?
The balance is especially weighted away from Medium for highly technical or expertise-based content, where the likelihood of getting broad exposure ("going viral") is small. Articles that get broad reach on Medium tend to have broad popular interest or relate to newsworthy events.
All of this is to say: In a technical, but important sense, when you're posting to Medium, you're reaching – and building – their audience instead of your own.
Testing Medium as a distribution channel for your blog content
That's the case against posting to Medium. But there might be some instances in which it's totally worthwhile. If:
Your articles have broad popular appeal
You're starting a publication, involving other writers (companies with offerings complementary to yours, maybe?) and have the time and energy to devote to that publication, or
You've talked to customers and you've heard that they read Medium
Those might all be cases where it's worth hosting your blog there.
And so far, we've really talked about the idea of hosting your blog exclusively on Medium. But there are some other alternatives to try:
Find a publication that caters to your audience, and place your content there to test how (and whether) it's received. This can be a part of a broader strategy of being a guest on any number of sites that are relevant to your target audience – online discussion communities, trade publications, social networking groups, and so on.
You can also re-post your existing content to Medium. If you do this, be sure to set the canonical link appropriately to avoid penalties.
Both of these can give you a "feel" for how much effort it is to post on Medium, and what kind of results you might expect.
Conclusion
Medium is an awesome site for voracious readers. The net awesomeness for business and technical content is less clear.
While there are cases where it may make sense to invest there, ensure that your customers and prospects are reading it to begin with – it's worth asking them directly about it before you spend a ton of energy eking out space on the platform. And these discussions might turn you on to platforms and communities that are more primed for your community.